Benefit Dinner with H.H. 34th Menri Trizin, Olmo Ling founder Tempa Dukte Lama, Menri General Secretary Geshe Tsewang Ngodup, and Lama Kyungsay Thinley
Benefits the nuns and children of Menri Monastery, Dolanji, India
Saturday August 10, 6pm
Registration is closed

Trimont Condominiums
1 Trimont Ln, Pittsburgh, PA 15211
We warmly invite you to join us for this precious opportunity to spend time with His Holiness and build a connection with the worldwide spiritual leader of Tibet's ancient Bon tradition. His Holiness has chosen the 350 children and the nuns at Menri Monastery, India, as the beneficiaries of his tour. Your attendance at this benefit dinner will directly support the children and nuns.
We will enjoy authentic Nepali entrees and desserts prepared by Uttam Tamang's Nepali Asian Restaurant. The dinner combines an opportunity to spend time with His Holiness and to support Menri Monastery while meeting others from the Olmo Ling community and the wider Bon community.
Appetizers:
Chicken and vegetable Momos (dumplings)
Dinner buffet
Nepali style chicken curry
Aloo gobi paneer (potato, cauliflower and Indian cheese)
Rayo saag (Nepali mustard greens)
Nepali style vegetable chow mein
Basmati rice
Dessert
Rasmalai – sweet cheese balls in cardamom-saffron sauce
Chai tea and coffee
Chicken, vegetarian, vegan and gluten free options can be provided, however, we do need to plan beforehand. Please email us at bon@olmoling.org or call us at 412-904-1112 if you would like a vegetarian, vegan or GF dinner!
Support the Redna Menling nuns – the living female lineage of Bon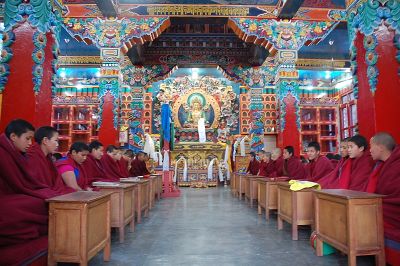 The nuns at the Redna Menling nunnery at Menri embody the living female lineage of Bon. At Redna Menling – the only Bon nunnery in India – they are able to receive the same educational and spiritual opportunities as the monks. Many of the nuns have gone through great hardship to be able to come to Menri and lead a monastic life of meditation, study, and service. Please help us support the nuns so that they may continue their practice and studies and inspire people across the world as radiant examples of female spiritual practitioners.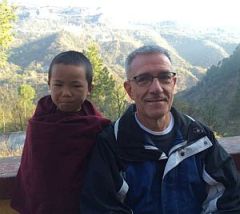 Support the children at Menri
Menri is offering education, shelter and health care to about 350 girls and boys at the Children's Welfare Center and the Bon Children's Home. Many of the children are from poor families in the Tibetan borderlands or are orphans or refugees who otherwise would not be able to receive an education. Receiving an education and loving support at Menri enables them to earn their livelihood and be part of building the future of the Tibetan community.
Venue & parking:
Trimont Residential Condominiums Party Space, 1 Trimont Ln, Pittsburgh,
PA 15211
The venue offers a stunning view of downtown Pittsburgh from the popular sightseeing spot Mt. Washington. Free parking is available in the visitor parking lot on Plymouth St. Enter Plymouth from Grandview to find the visitor parking lot on your right slightly down the hill. You can also use street parking on Plymouth St. After parking walk back on Plymouth toward Grandview and make a right towards the condominium entrance by the turning circle. The party space is on the ground floor to the left. This is a fully wheel-chair accessible venue with accessible bathrooms.