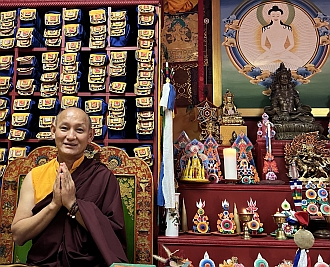 Your generous support is helping us maintain Olmo Ling temple and pay the monthly mortgage while we wait for the residential occupancy permit that will enable us to rent out the upper two floors and generate revenue. Thank you so much for your generosity!
Donate to Olmo Ling Mortgage Fund via PayPal
Donate to Olmo Ling Mortgage Fund via Credit Card or check
To donate by check, please write the check to Olmo Ling and send it to Olmo Ling, 1101 Greenfield Ave, Pittsburgh PA 15217.
---
---
When you become a member of Olmo Ling, you express your heart connection with the Bon teachings and with Tempa Dukte Lama's teachings of compassion and wisdom for ourselves and our community. Joining Olmo Ling as a member is a unique opportunity to participate in Tempa Lama's vision of preserving the ancient Bon teachings and making them alive and relevant in the lives of all practitioners.
Members receive a 10% discount on all Retreats and Workshops sponsored by Olmo Ling
.
Become a member online here
or contact the Olmo Ling office: 412 904 1112, bon@olmoling.org, for further details.
---
---
Your generosity and gifts for the general support and operation of Olmo Ling makes it possible for the Center to sustain its commitment to offer comprehensive programs of the Bon teachings and practices and to expand its compassionate outreach to the community. We gratefully and sincerely welcome gifts at all levels. You may donate securely online by credit card or with PayPal by clicking on the appropriate button below.
Donate with PayPal:
International donations may be securely made by using PayPal.

To donate by check or money order, please make payable to "Olmo Ling" and mail it to Olmo Ling Bon Center, 1101 Greenfield Ave, Pittsburgh, PA 15217.
For further information and assistance please contact our office at 412 904 1112 or bon@olmoling.org.
---
---
We invite you to make an offering to Olmo Ling founder and resident teacher Tempa Lama in recognition of the teachings that he is offering. Thank you for your generosity!

Teacher support via Paypal: