Olmo Ling Compassionate Outreach Projects
Tempa Lama and the Olmo Ling community have established several compassionate outreach projects. These projects provide an opportunity to share our wisdom and compassion and manifest the Bon spiritual teachings of compassion and liberation from suffering through our actions.
Read more about the Olmo Ling Compassionate Outreach Projects below:
Humla Medical Service Trip and Humla Education Fund
Nepal Earthquake Relief Project
Menri Roof Restoration Project
Music for Menri
---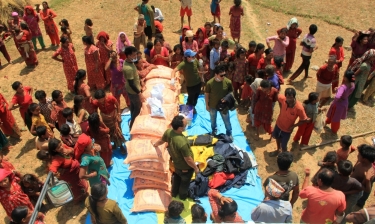 A magnitude 7.8 earthquake occurred less than 50 miles from Kathmandu, Nepal, on Saturday Apr 25, 2015. Buildings are destroyed, leaving many thousands homeless and without access to electricity, water, and food. Your donations continue to be urgently needed to help us continue our efforts in the hardest hit villages and in Kathmandu.
Project 1: Relief Efforts in Remote Villages:
Our team is providing tents, blankets, mattresses, food and water to more than 1,200 villagers in Bhimtar, Gatlang, Shermathang, Bari, Sankhu and Bhote Chaur (read more…). These villages close to the epicenter of the earthquake are almost completely destroyed and villagers are in urgent need of shelter with the Monsoon season approaching. Governmental relief efforts in these villages have been hindered by their remoteness and the destruction of roads leading to the villages.
Project 2: Helping Young Families and Hospitals in Kathmandu: With your generous support we are able to help several young families in Kathmandu to resettle, bringing the gift of hope (read more…). Our team is also visiting the area's hospitals with urgently needed provisions of water and medicine.
Read more…
---
Humla Medical Service Trip and Humla Education Fund
The Humla district of Nepal is one of the world's most remote areas. A land of incredible natural beauty and rich cultural diversity, the people of Humla have faced many challenges entering into the modern era. A lack of health care and education has created a cycle of poverty in many of the villages, making Humla one of the poorest districts in all of Nepal.
Tempa Lama and Clinic Team Leaders Heidi Harding, LAc. & Tim Aitken, LAc. will lead a medical service trip to Humla during September 13-26, 2015. The trip offers the opportunity for doctors, nurses, acupuncturists, herbalists, chiropractors, massage therapists and lay people to share their wisdom and compassion through the delivery of no-cost, high quality health care.
The medical service trip will serve as the seed for the larger Humla Education Fund. Income from the trip will help us conduct the initial assessment of how we can best establish a sustainable program of supporting access to education for the children of Humla and improving the current school system by adding much needed functions such as learning the native language and culture and training in computer literacy.
Read more…
---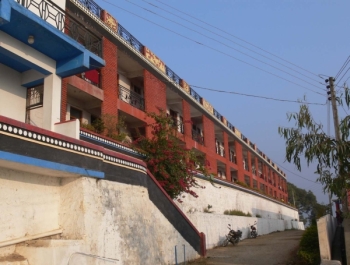 Menri Roof Restoration Project
Join us in supporting the replacement of the roof for the Large Monks' Dormitory at Menri Monastery, the main center of the Tibetan Bon tradition. We have raised $15,000 out of the required $27,600. Help us to raise the remaining $12,600!
Situated in Dolanji in the mountains of Northern India, Menri Monastery is the main spiritual center of the Tibetan Bon tradition in exile. Menri offers a home to hundreds of monks, nuns, and Tibetan children, and the opportunity for monks and nuns to study within the Bon system of higher education toward the Geshe (doctor of philosophy) degree. The dormitory, home to about 100 Bon monks, has a simple concrete roof and has developed serious leakage in several places. A number of monks' rooms have moldy ceilings and walls and have become unusable.
Thanks to a generous large gift received in 2014 the monastic center has been able to purchase materials and begin the roof replacement. Your donation will help us raise the remaining $12,600 to complete the roof replacement.
Read more…
---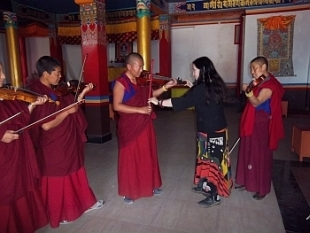 Music for Menri
Directed by Olmo Ling chant leader Eileen Nadzam, Music for Menri provides Western instruments and music lessons to nuns in the Renla Menling Nunnery at Menri Monastery, India, as well as Western music education for students in the Menri Monastery school. Eileen is also building an extensive collection of transcriptions of Bon chants and other sacred music into Western notation to support their preservation for future generations.
Recently, Music for Menri received a donation of six violins. At this time, incoming donations will be used to carry out some minor required repairs to these instruments and transport them to Menri.