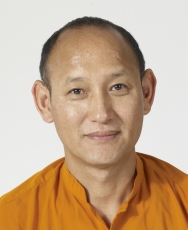 Welcome to Olmo Ling
Olmo Ling is a religious educational non-profit organization dedicated to preserving the ancient teachings of the Bon tradition of Tibet and making them available and accessible to lay practitioners.
Olmo Ling offers weekly meditation practice and teachings, prayers, meditation instruction and private interviews, and a study program that includes regular retreats with Tempa Dukte Lama and visiting lamas of the Bon tradition.
Learn more about Olmo Ling… or subscribe to our mailing list.
Due to the ongoing Covid-pandemic, Olmo Ling will be offering exclusively online programs. Visit the Olmo Ling teaching and retreat schedule for 2021 to view upcoming programs. Olmo Ling online store remains operational. We are able to ship quickly!
---
Weekly evening talk with Tempa Lama Tuesday June 22 via Zoom
Tempa Lama will continue teaching on the Noble Eightfold Path of Liberation. The Noble Eightfold Path consists of the Eight Limbs of Wholesome View, Wholesome Thought, Wholesome Speech, Wholesome Action, Wholesome Livelihood, Wholesome Effort, Wholesome Mindfulness, and Wholesome Concentration. This series of talks explores why these qualities are central to our path and how we can actualize them in our lives. On Tuesday June 22, Tempa Lama will talk about Wholesome Mindfulness and Concentration.
The weekly program at Olmo Ling is offered free of charge. All are welcome. Donations to Olmo Ling or to Tempa Lama are deeply appreciated. We are most grateful that your support for Olmo Ling has enabled us to maintain the sacred Olmo Ling temple space during the time of coronavirus-closure.
Join the weekly evening talk via Zoom here.
Meeting ID: 143 923 353. One tap mobile +13017158592,,143923353# US (Washington D.C) +13126266799,,143923353# US (Chicago)
---
Olmo Ling Publications, 2021. Paperback, 188 pp., $16.95
In this first English rendition of the Tibetan Bön Medicine Buddha practice, Tempa Dukte Lama illuminates the history of how the Medicine Buddha was first taught. He offers a translation of the short Medicine Buddha practice composed by 14th century Bön master Nyamed Sherab Gyaltsen along with a detailed explanation of the liturgy, visualization, and altar preparation.
The Bön Medicine Buddha practice was first taught in the human realm eighteen thousand years ago by the Awakened One Tonpa Shenrab and his son, compassionate being Che Bu Trishe, in response to a pandemic that threatened the ancient kingdom of Dawa Ruteng and caused widespread illness, conflicts, and famine. Tempa Lama retells the story of how this practice was first taught and how the Awakened One brought hope and healing to Dawa Ruteng. At that time, the king of Dawa Ruteng, Drag Chen Khorlo, had become very ill due to his misguided karmic actions and was going through a deep personal crisis. His son prince Triten Khorlo invited the Awakened One to visit Dawa Ruteng with an assembly of compassionate beings. Tonpa Shenrab's visit and profound teaching inspired and guided the king back to the light and to forgiveness and healing.
Now available at our online store here. We also carry Medicine Buddha deity cards and Medicine Buddha Mandala cards.
---
Update, June 7:
On behalf of Tempa Lama we would like to extend our sincere gratitude to all those who have generously donated!! Thanks to your generous support we have been able to order medical supplies including oxygen concentrator, ventilators, hospital beds with monitors, oxygen masks, essential medicines for current and future patients, high flow nasal cannulas, oximeters, and protective equipment. The supplies have now arrived safely in Humla.
We need your help to treat illness from COVID-19 and limit the spread of the virus in the remote Humla valley of Nepal. Humla is the place where Tempa Lama was born and spent the first six years of his life before beginning his studies at Menri Monastery, India. he has been working to support the people of Humla for many years. Humla is one of the world's most remote areas, with a population of around 50,000 spread across small villages and the capital of Simikot, where a small district hospital is located.
We have been working with Dr. Tashi Wangchuk Lama, medical superintendent of the small district hospital of Humla and nurse Kelsang Dolma to meet the hospital's needs. The goal is to treat those who are ill and limit further spread of COVID. This requires having a place where symptomatic patients can be safely isolated and treated. The hospital currently has seven beds for intensive care, however, these beds are not isolated from other hospital patients.
With our help, Dr. Tashi Wangchuk Lama has set up additional intensive care beds in tents for COVID patients. Donations have also sponsored an oxygen concentrator, ventilators, monitors, and essential medicines for 100 patients. In addition, donations have sponsored much needed masks, gloves, sanitizer, and PPE equipment for hospital staff. We remain in touch with the hospital to be able to respond to additional needs as they arise. Read more about our fundraising efforts.
Contributions of any size are gratefully received! You can safely donate online here. Thank you for your generosity!
---
Garuda Books in Switzerland is now offering most of Tempa Lama's books, including Origin of the Medicine Buddha. Orders from EU customers will be shipped from Germany to enable faster shipping. Garuda Books is run by a senior Bon practitioner and offers a unique selection of Bon and Buddhist literature, including rare titles.
---
Tempa Lama's books
---
With Iris Grossmann, every 1st and 3rd Sunday, 10:30-11:45am ET via Zoom. Next date: Sunday May 16
Kindle version of Journey now available here
Tempa Lama's fourth book, Journey into Buddhahood, offers a profound guide to attaining full liberation according to the Bon Sutra path, the path of compassionate beings. This journey begins with the aspiration to attain awakening in order to help all sentient beings gain freedom from cyclic existence. The journey consists of five successive paths: the Paths of Accumulation, Application, Seeing, Meditation, and No More Learning. Journey into Buddhahood offers a detailed explanation of the two delusions of affliction and intellect that obscure our true nature, and how we can gradually transcend them through our practice on the five successive paths.
Iris has studied closely with Tempa Lama for the past sixteen years and has assisted in editing and preparing his five books and practice booklets and handouts. Each session will begin with a 30-40 minute review and reflections on the meaning of the text offered by Iris. Then we will all share our questions, thoughts and insights. We are a small international group and are enjoying the process of building a good new connection with each other.
On May 16 we will conclude discussing the Path of Seeing (chapter 5).
---
We are deeply honored to have hosted His Holiness the 34th Menri Trizin as part of his first world tour. Following the passing of the late 33rd Menri Trizin on September 14, 2017, Geshe Dawa Dhargyal was determined as the new spiritual head of Bon and Abbot of Menri on January 1, 2018 through an intensive weeklong prayer ritual conducted by Bon nuns and monks from across Asia.
His Holiness offered a public talk Awakening the Heart of Compassion, at the First Unitarian Church, a daylong teaching on the Loving Mother Sherab Jamma at Olmo Ling, and the Mawe Senge wisdom deity empowerment at Olmo Ling. He joined a benefit dinner for the nuns and children at Menri Monastery. His Holiness also visited the Mayor's office and the Art in the Garden children's program offered by OMA Pittsburgh.
Read more about His Holiness' visit in the post-event newsletter and in an article in the Post Gazette.
---
Monthly Olmo Ling Dzogchen practice group
Offered via Zoom due to the ongoing Coronavirus closure
Olmo Ling is pleased to announce the start of a monthly Dzogchen practice group. The practice group is offered the first and third Sunday every month from 4:00-6:00 pm at Olmo Ling, 1101 Greenfield Ave, Pittsburgh PA 15217. This practice group will be led by Bob Marin. Dzogchen is usually translated as the 'Great Perfection'. Dzogchen is a view and path of spiritual realization that guides us to directly recognize our Buddha nature, that is the qualities and capacities present in all of us that are realized by enlightened beings.
Our sittings will be traditional and non-traditional. Traditional is an overarching to realize the view, meditation and action of Dzogchen. We are blessed to be able to study and practice with the support and guidance of Tempa Lama. Our approach to Dzogchen will reflect the A Khrid Dzogchen as taught by Tempa Lama and the Bon lineage teachers, and may draw on readings from other Dzogchen traditions as well, including teachings by the American-born Lama Surya Das who guided the earlier Dzogchen Sangha of Pittsburgh.
This monthly practice group is open to all and offered free of charge (donations are appreciated). To register or for questions, please contact Bob Marin.
---
By Tempa Dukte Lama
Olmo Ling Publications, August 2019
Paperback, 272 pp., $23.95
Now available at the Olmo Ling bookstore
Thrul Khor is an ancient Tibetan practice that employs breathing, physical movement, visualization, and deep meditative awareness as a path of harmonizing the body, mind, and energy, and ultimately attaining awakening. In this first comprehensive English-language guide to Bon Thrul Khor, Tempa Dukte Lama offers step-by-step instructions for 85 practices according to the A Khrid, Ma Gyud (Mother Tantra), and Zhang Zhung Nyen Gyud cycles of Bon Thrul Khor, supported by 499 photographs. He also explains the benefits of the Thrul Khor practices for our spiritual path and for our physical health and wellbeing.
Thrul Khor works with our mind, body, and energy to support us in stabilizing our understanding. The pure energy of awareness appears in the five colors, the energetic expression of the Five Wisdoms: Wisdom of Emptiness, Mirror-like Wisdom, Wisdom of Equanimity, Wisdom of Discernment, and All-accomplishing Wisdom. The innate essence of the five elements manifests from these five colors. Within the body, the five elements are expressed as flesh, blood, metabolic heat, breath, and mind. When we purify these five aspects through Thrul Khor, we will experience the true essence of the elements, which is the innate luminosity or innate awareness. Ultimately, the rainbow body can be attained.
The book includes the Tsa Lung prayers in English and Tibetan as well as guidelines for an intensive 100-day Thrul Khor retreat.
---
The Five Paths and Ten Stages of Compassionate Beings
By Tempa Dukte Lama
Foreword by H.E. Menri Lopon.
Olmo Ling Publications, September 2013
Paperback 249pp, $18.95
The Journey into Buddhahood is the practice of realizing the true nature of reality. We enter this journey when we first have the thought of helping all beings without distinction.
This is the first time that the Bon teachings on the Paths and Stages of compassionate beings are written in English or any other Western language. This book is like the rain coming at the right time and place. It will be of great benefit to all aspiring beings.
- His Eminence Menri Lopon Rinpoche.
Read more here
. Journey into Buddhahood is available as a paperback from our store
here
it is also available as a
Kindle book from Amazon
.
---
Heart Drop of the Loving Mother
By Tempa Dukte Lama
Olmo Ling Publications, June 2014
Paperback 176pp, $16.95
In Heart Drop of the Loving Mother, Tempa Dukte Lama opens the door to the practice of embodying the Great Loving Mother, known in Tibetan Bön as Sherab Jamma, the female Buddha of love and wisdom. The Loving Mother is the mother of all. She is the source of our wisdom and wholesome aspiration. She is the ceaseless source of compassion, skillful means, and power. Through these qualities, the Loving Mother nurtures all beings without hindrance. She is clarity without obstacles. She is the awakened nature of all beings. She is love because she wants all beings to be happy. She is compassion because she wants all beings to be free from suffering. She is presence because she is always there, offering us strength, protection, and clarity.
The Heart Drop of the Loving Mother Practice helps us connect with our primordial capacity to love and care unconditionally for one another and for ourselves. If we take some time for this practice every day, it will deeply transform us.
Order your copy of Heart Drop of the Loving Mother from our store here.
---
Olmo Ling monthly Youth Sangha – date to be announced
A new date will be announced once we re-open following the current Coronavirus outbreak
One of the most renowned practices in Tibetan Buddhism and Bon is the making of sand mandalas which represent the impermanence of all things. Although we obviously don't have time to construct an authentic one in an hour, we will collaborate to construct a nature mandala of seasonal greenery, pebbles, twigs, and seashells in addition to colored sand. After completing this family-friendly community activity, we will brush it away to foster non-attachment.
The Olmo Ling Youth Sangha is offered monthly on Fridays from 6:30-8PM.
Please note that this is a half hour later start time than previous years.

Venue: Olmo Ling Bon Center, 1101 Greenfield Avenue, Pittsburgh, PA 15217. This program is offered free of charge. We appreciate donations to help us cover material expenses.
The Friday evening Youth Sangha is a mindful way to end the school week and begin the weekend. This Program is free and open to all ages birth to teens, and newcomers are always warmly welcome. Children over age 5 may be dropped off, although parents generally stay to share this time with their children and fellowship with other families. For children 5 and under, we request that a guardian remain and participate. Gatherings include a snack, meditation, mantras, and an art activity such as calligraphy, music & literature or discussions and service projects.
Although we are based in the Tibetan Bon tradition, we have been expanding activities to include more traditions and Youth Sangha is appropriate for all Buddhists as well as other wisdom traditions. Dharma is for everyone, so please share this invitation with others, especially if you belong to another Sangha! While there is no charge for any of the activities, contributing to the shared snack (all nut & peanut free) is always appreciated and there is a bowl for donations to Olmo Ling right inside the door, but please never let any of those requests be a hindrance to joining us!
Please make sure to RSVP with the Youth Sangha coordinator Bonnie Weiss at earthmom3@comcast.net to ensure adequate materials are available for class as well as to advise about any food allergies or special accommodations that might benefit your child
---
Monthly Day of Practice: Date to be announced
The day of meditation is offered each month and is open to all levels of practitioners as well as non-practitioners. The time will be spent in silent meditation. The day is divided into 45 minute sessions with a 15 minute break. You are invited to stay for as long as you desire. You can sit on a cushion, in a chair, stand or any other position that works best for you. The Day of Practice begins at 9am and ends at 4pm.
Coffee, tea and water will be available. No advance registration is necessary. There is no charge, but, donations to Olmo Long are always appreciated.
The Day of Meditation is guided by Olmo Ling chant leader Jim DelBianco. If you have any questions email Jim at sangha@olmoling.org. Please check the website for cancellations.
---