Ngondro Teachings and Transmission with Tempa Lama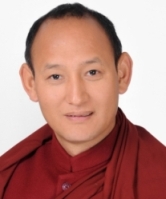 Sat. January 11, 2014, 9:30am-5pm and Sun., January 12, 10am-1pm
There is no fee for this Retreat, however, we ask all participants to offer a donation. Pre-registration is required to reserve your space.
Upon request by several students, Tempa Lama will offer the teachings, explanation and transmission of the Bon Ngondro practices in this weekend retreat. The Bon Ngondro practices are a powerful skillful method for purifying karmic tendencies and purifying the practitioner's body, speech, and mind. They carry immense blessings in connecting the practitioner with the living lineage of Bon masters dating back to the founding teacher, the Awakened One Tonpa Shenrab. Immersing ourselves into Ngondro practice is a profound way of preparing our heart and mind to recognize the true nature of the mind. The Ngondro or preliminary practices open the door to the Bon Dzogchen teachings and the practices of the Bon Path of Transformation.
Ngondro is based in the contemplation of the Four Thoughts that turn the mind toward its essence: the contemplation of impermanence, the preciousness of our life, the suffering of cyclic existence, and the law of cause and effect. These are the external practices of Ngondro. The internal Ngondro practices include the Prayer to One's Teacher, Taking Refuge, Generating the Heart and Mind of Compassionate Beings, the Mandala Offering, Purification through the 100-syllable Mantra, and the Three Heart Mantras of Bon. Although Ngondro is referred to as "preliminary practice", it is a complete path of liberation.
This Retreat will be very helpful for those already practicing Ngondro as well as for those who would like to begin practicing Ngondro and experience the blessings of this powerful practice. This Retreat is also an excellent preparation for the Heartdrops of Dharmakaya teachings offered later that month.
Registration
To register, please contact Iris at the Olmo Ling office: bon@olmoling.org or 412 904 1112. There is no fee for this Retreat, however, we encourage you to offer a donation. Your donation help us maintain Olmo Ling temple and continue offering weekly meditation practice and Dharma talks, meditation instruction, Yoga, and regular Retreats.
You can donate securely online, donate by credit card on the phone, or mail a check to Olmo Ling, 1101 Greenfield Avenue, Pittsburgh PA 15217. Thank you for your generosity.
About Tempa Lama
Tempa Dukte Lama is an ordained Tibetan Bon lama. He studied in Menri Monastery, India, from the age of six under the close, personal guidance of His Holiness 33rd Menri Trizin, the spiritual head of Bon. Tempa Lama is the founder and spiritual director of Olmo Ling Bon Center in Pittsburgh, PA. He is an artist and poet and author of three books with Olmo Ling Publications, the first Bon publishing house which he founded in 2011. Tempa Lama is dedicated to making the ancient teachings of Bon available and accessible in the West, helping people bring a practice of compassion, healing and happiness into their lives.