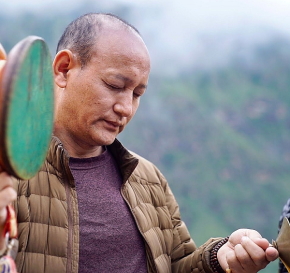 Chang Bu Gyatsa Chod Prayer Ritual

via Zoom with Tempa Lama, assisted by senior students
Sunday, March 6th, 2022 from 10:00am – 12:00pm ET
Simultaneous translation in Spanish will be available. Please check back for any updates!
Losar, Tibetan New Year, 2022.
With this prayer ritual, we will invite blessings, healing, prosperity, and clear karmic obscurations for this new year. The Chang Bu Gyatsa prayer opens the possibility of a deep healing of our body, mind, and soul. It has the power to clear karmic obscurations that restrict our happiness, prosperity, health, and longevity, or that lead to misfortune and difficulties in our family relationships.
When we attend the Chang Bu Gyatsa Healing Prayer with an open mind and a strong motivation, the ritual will help us clear the underlying karmic causes so that we may experience happiness and healing. Moreover, the prayer supports us in reconnecting with our true nature of purity and joy.
---
We are offering this teaching free of charge to enable everyone to benefit from the blessings of this Chang Bu Gyatsa Chod Prayer Ritual.
REGISTER ONLINE
HERE
Registered participants will receive a handout of the prayer's text on Friday, March 4th, 2022.
---
In-Person Registration
In-Person Chang Bu Gyatsa Chod Prayer will be available at Olmo Ling Bon Center in Pittsburgh, PA with limited occupancy.
For the safety of everyone who attends, we ask that you are fully vaccinated and wear a mask during the event.
If you are interested in attending in person, please email Joanna at bon@olmoling.org, subject, "Chod Prayer Attendance". We will be capping attendance at 25. 
---
Thank You!
Generous donations and memberships from our community have enabled us to maintain the Olmo Ling temple space and pay for necessary expenses during this time of closure. Thank you so much for your continued support!
Donate by Credit Card
---
Donate with PayPal