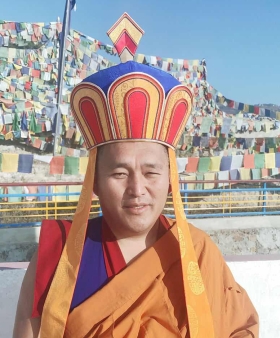 Geshe Nyima Dhondup Rinpoche
Geshe Nyima Dhondup is the abbot of the Bon Dialectic School at Menri Monastery, India. He received novice ordination from His Holiness the late 33rd Menri Trizin, Lungtok Tenpai Nyima Rinpoche, and His Eminence Menri Ponlop Yangton Thinley Nyima Rinpoche in 1992 upon entering the Bon Dialectic School. He completed over 15 years of study of Bon Dzogchen, Tantra, Sutra and the five major and minor sciences of Bon. He received his Geshe degree on March 15, 2006. On February 25, 2012 he was enthroned as the Menri Shedrup Khenpo, the abbot of the Bon Dialectic School at Menri.
Geshe Nyima Dhondup has been teaching Bon Dzogchen, Tantra, and Sutra to the monks enrolled at the Bon Dialectic School for more than 15 years. He has been invited speaker at several major Bon and Buddhist conferences and has contributed to a number of articles for Bon-sGo, the Tibetan language periodical journal of Menri Monastery. Since 2011 he has served as the General Secretary of the Governing Council of Menri Monastery and as director of the official website of Menri. He is the author of the books Rigs sMa dGyes Pi mChod Trin "Offerings to rejoice the great scholars", Man-ngag Lung gi Yang Zhun sTod Cha & sMad Cha "A clear oral transmission of the sacred instruction part I & 2, and Yungdrung gi Tson Dhon "Illustration on the meaning of Yungdrung". His books cover the main philosophical teachings of the Bon tradition.