Heart Drop of the Loving Mother
2-day Retreat with Tempa Lama at Yeru Bon Center, Minneapolis
Saturday August 9, 10am-4pm, Sunday August 10, 10am-4pmYeru Bon Center 301 E. Lake Street, Minneapolis,
MN 55408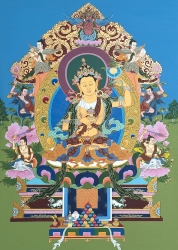 Join us for this weekend teaching-retreat on the ancient Tibetan meditation practice 'Heartdrop of the Loving Mother' with Tibetan Bon lama, Tempa Dukte Lama. Tempa Lama will teach the Heartdrop of Sherab Jamma, the female Buddha of love and wisdom, or 'Loving Mother of Wisdom' and guide us in meditating on the Loving Mother together. Sherab Jamma is one of the four 'Transcendental Lords' of Bon and the highest deity of the Tibetan Bon tradition.
The Heart Drop of the Loving Mother Practice helps us connect with our primordial capacity to love and care unconditionally for one another and for ourselves. If we take some time for this practice every day, it will deeply transform us. The true quality of the Loving Mother is within us from beginningless time, and it will be there forever. Practicing the Loving Mother means that we recognize this quality within ourselves. Based on this recognition we nurture it and finally use it as a skillful means of refuge and protection for the self and others.
The Retreat is both for those who are new to the Loving Mother meditation practice and for those who have learned this practice previously. Students who have already taken the more familiar Jamma (Chamma) practice, as taught by Latri Nyima Dakpa Rinpoche will especially benefit from this rarely taught practice. Tempa Lama's new book, Heart Drop of the Loving Mother, is devoted to the special teachings offered in this retreat and will be available for purchase.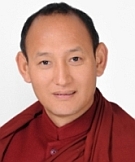 Tempa Dukte Lama is an ordained Tibetan Bon lama and the founder and spiritual director of Olmo Ling Bon Center and Institute and Olmo Ling Publications. He trained in Menri Monastery, India, from the age of six under the close guidance of H.H. 33rd Menri Trizin, the spiritual head of Bon. He has lived in the US since 2000 and teaches internationally, helping people bring a practice of compassion, healing, and happiness into their lives.
Tempa Lama is an artist, poet, and the author of Heart Drop of the Loving Mother, Journey into Buddhahood, The Intimate Mind, and Inexhaustible Miracles.
Registration
Register online on the website of Yeru Bon. With any questions, please contact Deborah Yeru Bon Center at 952-300-6111 or deborah@yeruboncenter.org.