Olmo Ling Nursing Education Project
This project is closed.
Tempa Lama wants to help educate talented young people in Humla as nurses to begin offering sustained health care services in this remote valley. The Humla region of northwestern Nepal is one of the most stunningly beautiful, as well as, geographically isolated and underserved, areas of Nepal. Healthcare resources are scarce, with only one hospital in a region the size of Connecticut and a population of over 50,000. Many villages lack even a single trained healthcare worker, forcing villagers to walk days to access basic health services.
The Nursing Education Project addresses this need by identifying local students in Humla who aspire to careers in nursing in their home villages. We cover the costs of tuition, books, and other supplies throughout their education in exchange for a commitment to serving the Humla region as community healthcare workers. The cost of 4 years of education in the capital city, Kathmandu, is less than the cost of a semester at US public universities.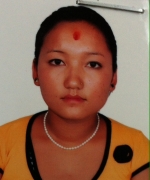 Nursing sponsorship for Sangita Tamang
We invite you to help us in sponsoring a young woman from Humla to attend nursing school in Kathmandu. We have successfully raised $1,600 to cover the costs of the first year of nursing school. The full three years will cost $4,000 in tuition. Sangita Tamang is a young woman from Nekpa village who has firmly committed to return to Humla as a nurse after completing her degree. We have witnessed over and over that Humla's children study with incredible dedication and motivation, often finishing school at the top of their class when given the chance to study in a good school in Kathmandu.
Sangita is now finishing the second year of the nursing school program. Please help us to fund the third and last year of nursing school. Your generosity will offer the gift of education and a future to this young woman. To support Sangita in studying as nurse, donate securely online using the button below or mail a check to Olmo Ling marked "nursing project".
Thank you very much for your generosity!