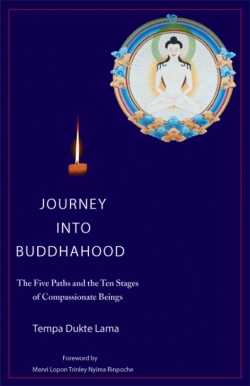 "In this present book, 'Journey into Buddhahood', Tempa Lama Rinpoche has explained in great depth the teaching of the Five Paths and Ten Stages based on the
Sa Lam books
by rDro mGon bLo Dros rGyal mTshan and by other ancient great Bon lineage masters. Particularly, Tempa Lama has explained the teaching of the Paths and Stages and its application in everyday life in a way that is simple and easy to understand.
"This book is the first time that the Bon teachings on the Paths and Stages of compassionate beings are written in English or any other Western language. At this time people in the West take a deep interest in the practice and teachings of Bon and Buddhism. For those people, this book is like the rain coming at the right time and place. This book will be of great benefit to all those aspiring beings."
- H.E. Menri Lopon Yangton Trinley Nyima Rinpoche
About this book:
The Journey into Buddhahood is the practice of attaining complete awakening. Whether we experience happiness or suffering depends on the way we perceive reality. The basis of our experience is the mind. This recognition motivates us to look for a path that not only offers temporary respite from suffering, but that enables us to completely free ourselves and all beings. When we first have this thought of helping all beings without distinction, we enter the Journey into Buddhahood.
About the author:
Tempa Dukte Lama is the founder and spiritual director of Olmo Ling Bon Center. An ordained Tibetan Bon lama, he trained at Menri Monastery, India, with H.H. 33rd Menri Trizin from a young age. He is an artist, poet, and author of Inexhaustible Miracles: The Ten Perfections on the Path of Compassionate Beings and The Intimate Mind: Illuminating Emotion and Transformation. Tempa Lama has lived in the US since 2000 and teaches in the US, Mexico, Canada, and Europe.
Order your copy of Journey into Buddhahood from our store here
.