Journey into Buddhahood book study group with Iris Grossmann
Every 1st and 3rd Sunday, 10:30-11:45am ET via Zoom
Kindle version of Journey now available here
Tempa Lama's fourth book, Journey into Buddhahood, offers a profound guide to attaining full liberation according to the Bon Sutra path, the path of compassionate beings. This journey begins with the aspiration to attain awakening in order to help all sentient beings gain freedom from cyclic existence. The journey consists of five successive paths. On the Path of Accumulation we gather merit and wisdom to help us overcome the two delusions that obscure our true nature. These are the delusion of affliction, which consists of afflictive emotions and afflictive views, and the delusion of intellect, which is our grasping at the self and phenomena as real and substantial. Tempa Lama's book offers a detailed explanation of these two delusions and how we can gradually transcend them through our practice of the Thirty-seven Aspects of Enlightenment. On the second path, the Path of Application, we prepare for the direct recognition of the nature of reality. On the third path, the Path of Seeing, we attain a direct recognition of the true nature of the self and phenomena for the first time. This recognition is deepened and stabilized on the subsequent Path of Meditation. Finally, the compassionate being attains liberation on the Path of No More Learning or full Buddhahood.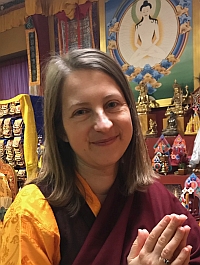 Iris has studied Buddhism and Eastern traditions since her childhood, starting around 1990. She has studied closely with Tempa Lama for the past sixteen years and has assisted in editing and preparing his five books and practice booklets and handouts. She feels particularly connected to the Bon Sutra teachings underlying Journey into Buddhahood and has been studying them closely for several years. Tempa Lama encouraged her to share her understandings in weekly evening talks at Olmo Ling temple and now in an online study group. Iris regularly discusses deeper questions on the teachings of Journey into Buddhahood with Lama la to clarify points. We are offering this study group at a time that is accessible for people who may want to join from Europe or Asia.
Book study group details
The study group began on June 7 with the first chapter of Journey into Buddhahood and we will gradually work through the following chapters. The study group combines sharing our experiences with the path of practice outlined in the book with a review offered by Iris to address questions and important aspects. We are a small group, offering the opportunity to connect with others in a more private setting. You are welcome to join the group at a later date if you like. If you have any questions beforehand, please email Iris at iris@olmoling.org.
Register for the study group here. Purchase a kindle version of Journey into Buddahood here or view the table of contents and purchase the paperback version of Journey here.
Study group outline
Sunday June 7, Introduction to Journey into Buddhahood (Introduction and part of chapter 1)
Sunday June 21, The two delusions and karma (chapter 1)
Sunday July 5, Cyclic existence and the mind of awakening (chapters 1 and 2)
Sunday July 19, The Beginning Path of Accumulation (chapter 3, first part)
Sunday August 2, The Beginning Path and mindfulness practice (chapter 3, first part continued)
Sunday August 16, The Intermediate Path of Accumulation (chapter 3, second part)
Sunday September 6, Sharing our experiences with the Path of Accumulation
Sunday September 20, The Advanced Path of Accumulation and transition into the Path of Application
Sunday October 4, The Heat and Peak Levels of the Path of Application (through page 90)
Sunday October 18, The Path of Application continued
Sunday November 1, Transition to the Path of Seeing
Sunday November 15, The Path of Seeing: Entry, Fourfold Aspects, and Sixteen Moments of Wisdom (through page 116)
Sunday December 13, The Path of Seeing continued (through page 116)
Sunday January 3, The Path of Seeing – review and the Seven Limbs of Awakening (pages 116-120)
Sunday January 17, Renunciation on the Path of Seeing (pages 120-140) – note that we will likely do a second session on this topic
Sunday May 16, concluding our discussion of the Path of Seeing
Sunday June 6, The Path of Meditation: introduction and the Noble Eightfold Path (pages 141-148)
Sunday June 27, The Path of Meditation: The Ten Stages (introductory section and Stages 1-3, through pages 168)
Sunday July 11, The Path of Meditation, The Ten Stages continued
Sunday August 1, Stages 1-3
Sunday August 15, Stages 4-5
Sunday September 5, Stages 6 and 7
Sunday September 19, Stages 8-10
Sunday October 8, Path of No More Learning (part 1: Truth Body)
Sunday October 31, Path of No More Learning (part 2: Enjoyment and Emanation Body, Four Wisdoms, Four Activities)
Sunday November 21, Concluding reflections on the 37 Aspects of Enlightenment in our lives