Bon Medicine Buddha teaching and transmission with Tempa Lama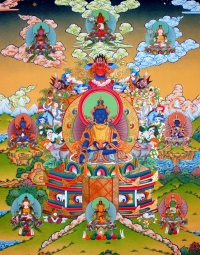 Saturday May 22 and Sunday May 23, 9:30am-12:30pm ET via Zoom
Join us for this special teaching on the ancient Bon Medicine Buddha practice. Tempa Lama will offer a detailed explanation and teaching on the Medicine Buddha practice, enabling us to do this powerful meditation practice as part of our daily practice. He will explain the origins of this practice and its benefits for our lives and our health. He will also give the transmission of the Medicine Buddha practice.
The Bon Medicine Buddha practice was first taught in the human realm eighteen thousand years ago by the Awakened One Tonpa Shenrab and his son, compassionate being Chebu Trishe, in response to a pandemic that threatened the ancient kingdom of Dawa Ruteng and caused widespread illness, conflicts, and famine. This ancient healing practice is deeply beneficial for today's world and the health challenges we face. It is also a powerful way to deepen our faith and our ability to heal, forgive, and extend compassion.
Registration and practice materials
Pre-registration is required for this free Zoom teaching. Register here. You will receive an automated email with a link to join the meeting; this link is individual to you and should not be shared. If you are not on our mailing list and would like to be emailed with future teaching announcements, you can sign up for our mailing list here.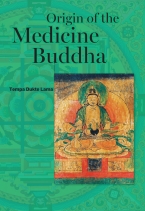 Registered participants will receive a copy of the liturgy of the Concise Medicine Buddha Practice by 14th century Bön master Nyamed Sherab Gyaltsen.
For a detailed explanation of this practice, Tempa Lama's new book, Origin of the Medicine Buddha is available via our online bookstore. In this first English rendition of the Tibetan Bön Medicine Buddha practice, Tempa Dukte Lama illuminates the history of how the Medicine Buddha was first taught by the Awakened One, Tonpa Shenrab, to his son, compassionate being Chebu Trishe. He offers a detailed explanation of the liturgy, visualization, and altar preparation.
Recently international shipping rates worldwide have increased. If you are part of a practice group, we offer a wholesale discount for an order of several books, and this will also enable lower shipping costs per person. If you are interested, please email us.
We are offering this teaching free of charge so that everyone can benefit. Tempa Lama feels that the Medicine Buddha practice is incredibly beneficial to support us in maintaining good health and strengthening our faith in our spiritual practice. We are grateful for donations of any size to help us continue offering free teachings while maintaining Olmo Ling temple during the COVID-19 closure. Thank you for your generosity and may you and your family stay healthy and well.
Donate via Paypal
Thank you for your generosity and may you and your family be healthy and well!