Help us Support Menri Monastery with a Lunch Offering for 520 Nuns and Monks
Tempa Lama will be visiting Menri Monastery, India, the mother monastery of Bon later this month. Our connection with the monastic community at Menri Monastery, where Tempa Lama grew up, is a profound blessing for Olmo Ling. On the occasion of his visit, Tempa Lama will present an offering on behalf of the Olmo Ling community. We hope that you can join us!
We invite you to join us in sponsoring one lunch and afternoon tea for all 520 nuns and monks and giving each nun and monk a small donation. Tempa Lama will request the nuns and monks to pray for the good health, happiness, longevity, and prosperity of everyone in the Olmo Ling community and offer practices to clear obstacles. This offering of prayers by the entire Menri monastic community is very powerful. Our offering in turn is an important contribution to preserving and strengthening the Bon monastic tradition and supporting the next generation of Bon monastic teachers. Tempa Lama will also present a direct offering to His Holiness 34th Gyalwa Menri Trizin Lungtok Dawa Dhargyal Rinpoche and Menri Shedrup Khenpo. In addition we will present the donations given by our community towards rebuilding the road near the Menri nunnery following recent disastrous landslides. You can still donate towards this offering too!
We hope you can join us in making this offering to Menri! 


Offering budget:
Total budget: $3,750 (plus any donations made towards the rebuilding work at the nunnery)
Raised so far: $3,691.13. To be raised: $58.87
Thank you so much for supporting the monks and nuns of Menri Monastery!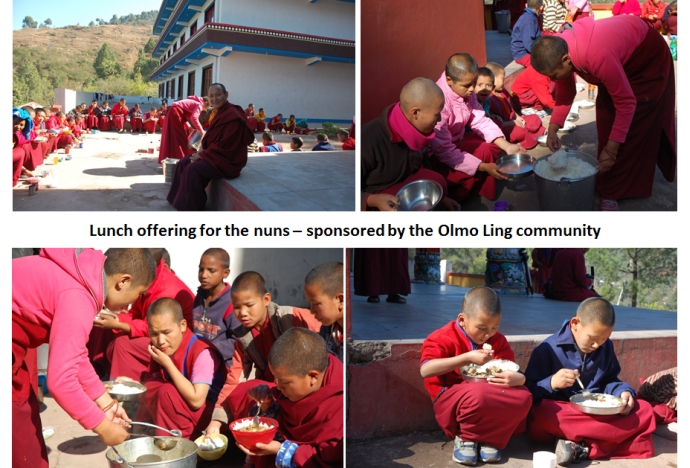 Donate via PayPal
Donate by Credit Card
Donate by Check, Please Send Your Check to:
Olmo Ling
1101 Greenfield Ave
Pittsburgh, PA 15217
with a note "Menri Offering"
Please email us with any questions at bon@olmoling.org