Thank you for your support for the victims of Nepal's earthquake
This project to support the victims of the magnitude 7.8 earthquake that struck Nepal on April 25, 2015 is now closed. All remaining funds have been dispersed to ongoing work in the villages near Kathmandu.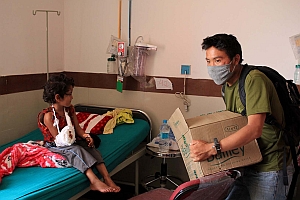 Update November 20, 2015:
We would like to thank you again for your generous support for the victims of the earthquake that hit Nepal on April 25. With your help we have been able to reach out to the earthquake victim in three comprehensive phases of support. During
Phase I
our team provided tents, blankets, mattresses, food and water to more than 1,200 villagers near the epicenter of the earthquake. We also dispensed water and medical supplies to hospitals in Kathmandu. During
Phase II
our efforts this fall focused on helping young families in Kathmandu and in the larger area affected by the earthquake. Tempa Lama reviewed the situation on the ground during his extended stay in Nepal and personally directed support toward young families to help them resettle and stabilize their lives. During
the Third and Final Phase
our volunteer team is again visiting remote villages near Kathmandu to provide comforters so that villagers can stay warm during the cold season.
We are now closing the earthquake relief campaign and will no longer be accepting donations. Our efforts are now shifting to the need to help children from impoverished families in Nepal attend school and vocational training. Tempa Lama has selected children that we plan to support based on individual needs and circumstances and the willingness and ability to study hard. Read more on the Olmo Ling Children's Fund Page.

Your donations have enabled us to provide shelter and food through a network of volunteers on the ground led by Mr. Chhewang Lama, managing director of Responsible Treks. Our team has visited the hardest hit villages to provide tents, blankets, food, water, soap and medicine to those who are injured, have lost their houses or lost family members. Our team has distributed 100 tents measuring 12×18 ft that will together provide shelter for around 1,250 villagers, 1,100 bottles of water, 3,600 kg rice, 30 boxes of noodles, 20 boxes of cookies, 200 pieces of soap, blankets and clothes and medicine. Our team has reached more than 1,500 people in different regions of Nepal.
Description of targeted areas:
Bhimtar VDC: Bhimtar is located 60 km northeast of Kathmandu and consist of nine villages. Around 98% of the houses are destroyed. Our team was the first to reach and distribute relief in this village. We distributed 38 tents, 1410 kg rice, 200 pieces of soap, and clothes to support approximately 900 people.
Gatlang Village, Rasuwa: Gatlang is located 250 km northwest of Kathmandu, very close to the epicenter. Ca 90% of the 350 houses in Gatlang are destroyed. The village is not accessible by road. The government has dropped a few tents and rice via helicopter. Given the extent of destruction, more help is urgently needed. Our team has so far provided 20 tents and 1000 kg of rice with a priority on taking care of the elderly and children.
Shermathang Village: Shermathang is located 80 km northeast of Kathmandu directly at the epicenter of the second big shake. More than 95% of houses are destroyed. Our team has provided tents, rice, tea, salt, and soap.
Khursani Bari village: Bari is located 90 km east of Kathmandu. Around 95% houses are destroyed and the roads to this village are damaged. The quakes were followed by a dry landslide that resulted in further lives lost. Our team supported 75 households with 50 tents, 1,500 kg rice, and 50 boxes of noodles.
Sankhu and Bhote Chaur villages: Our team has made an initial visit with noodles, cookies, water and tarp.
We are grateful to our ground team who have been tirelessly supporting the relief efforts over the past 11 days: Chhewang Lama, Amchi (Tibetan doctor) Tsering Dawa Lama, Rikjin Lama, Sonam Norbu Lama, Rinjin Phunjok Lama, Karbu Lama, Wang Lama, Bikram Shamser Kunwar, Anil Lama, and Tsering Tanba Lama.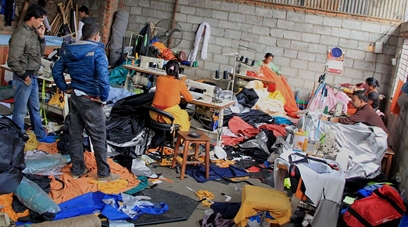 ---
With your donations a team overseen by Ms. Kundol Lama has supported several young families who have lost their homes and helping them resettle or relocate. Our team has also visited hundreds of injured people in hospitals in the 14 most affected districts to provide water. Medical supplies have also been donated to Bir Hospital which is experiencing supply shortages. In addition the team provided water and a donation to the Tibetan Refugee camp.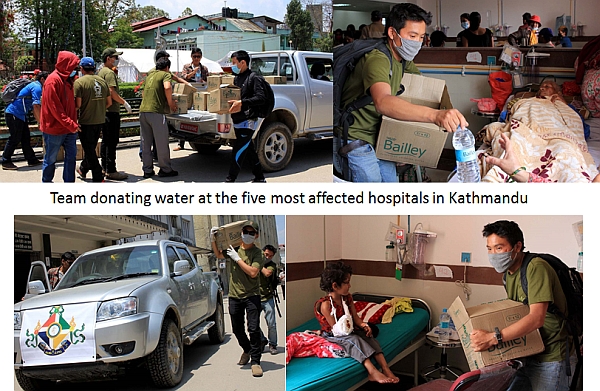 Phase II: Providing comforters to villagers in advance of the cold season
Even eight months after the earthquake, hundreds of families from the earthquake- affected districts are still compelled to live in temporary shelters. Considering the cold-related risks, our volunteer team headed by members of Responsible Treks is coordinating the distribution of comforters in the remote villages near Kathmandu. The team has so far delivered 120 warm winter blankets to Langtagn and Kyanjin villages. These two villages were among of the most effected areas.