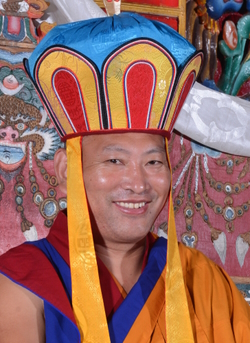 Offering to His Holiness 34th Gyalwa Menri Trizin for His 2023 Visit
We are deeply honored to be able to host His Holiness 34th Gyalwa Menri Trizin Lungtok Dawa Dhargyal Rinpoche the 34th abbot of Menri Monastery and spiritual head of the Bon tradition to Pittsburgh this June. Your generous gift will go towards our offering to His Holiness. Since His Holiness was enthroned as the 34th Gyalwa Menri Trizin in 2018, he has been working steadfastly on strengthening the work of Menri Monastery and stabilizing its foundation of support through projects including a new building for Geshes and a much-needed public restroom.
Menri Monastery continues to support several hundred children, including Tibetan refugees and orphans who receive education, shelter, and a loving home at Menri. The nuns at the Redna Menling nunnery at Menri receive the same educational opportunities as the monks, including being able to study toward the Geshe (doctor of philosophy) degree. Many of the nuns have gone through great hardship to be able to come to Menri and lead a life of meditation, study, and service.
His Holiness is also growing deep connections with the worldwide Bon community and making his teachings and blessings available to practitioners in many countries. This year His Holiness is offering the world the precious gift of an extended teaching tour. Your donation will help us cover the costs of hosting His Holiness and the Geshes traveling with him and offering him a generous gift to further his work at Menri.
Thank you for your generosity and may your gift benefit all beings!
Please note that this is an offering toward His Holiness and not a registration to an event.
Donate with PayPal
Donate with a Credit Card
Donate by Check, Please Send Your Check to:
Olmo Ling
1101 Greenfield Ave
Pittsburgh, PA 15217
with a note "His Holiness"
Please email us with any questions at bon@olmoling.org