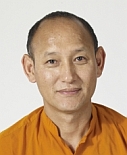 Tempa Dukte Lama
Founder, spiritual director and chairman of the board.
Tempa Dukte Lama is an ordained lama of the Tibetan Bon tradition. He is the founder and spiritual director of Olmo Ling Bon Center and Institute in Pittsburgh, PA, and co-founder of Humla Fund. He is an artist and poet and has authored four books: Heart Drop of the Loving Mother (2014), Journey into Buddhahood (2013), Inexhaustible Miracles (2011) and The Intimate Mind (2011). He is deeply dedicated to making the Bon teachings available in the West. Tempa Lama studied at Menri Monastery, India, under the close guidance of the late H.H. 33rd Menri Trizin, the worldwide spiritual head of the Bon tradition until 2017. Tempa Lama has lived in the US since 2000 and teaches internationally, helping people bring a practice of healing and happiness into their lives.

Iris Grossmann, Ph.D.
Co-founder and Director of Development
Iris has studied Buddhism and later Bon since 1990. She has been a close student of Tempa Lama and has helped organize his teachings and writings since 2004. In 2008, she co-founded Olmo Ling with Tempa Lama. Iris is Assistant Professor of Sustainable Technology at the Falk School of Sustainability at Chatham University. Her teaching and research focus on sustainable and equitable urban and community development and renewable energy. Her personal interest is in supporting the availability of the Bon wisdom teachings in the West through the teachings offered at Olmo Ling, publications of Bon texts, and cultivating a Bon practice community in Pittsburgh.

Emily Carlson
Secretary
Emily Carlson, MFA, is co-director of youth programming for OMA Center for Mind, Body and Spirit, through which she heads Art in the Garden, a summer program located in urban gardens in Pittsburgh. Art in the Garden engages a variety of modules that support youth in holding themselves and others in compassion and seeks to support youth knowing — in deep and lasting ways — the interconnectedness of all living beings, that we are all whole and all belong. For almost two decades, Emily has taught writing to students from elementary school to college. She also worked at the Pennsylvania Governor's School for the Arts, led The Experiment in International Living's program in Ghana, worked with horses in Brooklyn, NY and Italy, and studied poetry in Beirut through a grant from the Syria-Lebanon Nationality Room. Emily is the author of I Have a Teacher and Symphony No. 2. She lives with her partner Sten and their three children in a cohousing community.

Lisa Berry
Director of Social Media
Lisa Berry has a Bachelor of Science in Finance from the University Of Baltimore. She graduated from the Appalachian School Of Awakening after studying for five years various natural healing methods. She is an Non-denominational Ordained Minister. She owns her healing business named Rising Frequencies, where she helps clients in her home office and through Zoom. Her journey with Bon began in 2011. She is currently studying/ training with Tempa Dukte Lama to become an ordained Bon Lama under his lineage.

Mary Carroll
HR and Membership Director
Mary Carroll, RN, is a home-visiting nurse, childbirth educator and henna artist. She got involved with Olmo Ling through the Humla Medical Service trip in 2014, took refuge in 2015 and has been attending dharma talks and teachings there ever since. She lives with her spouse, Bridge, and a bunch of fur kids and enjoys learning languages, traveling, hiking, and vegan cooking.
Bob Marin, MD
Programs
Bob Marin is a longtime resident of Pittsburgh, like his wife Laura originally from New York City. Bob and Laura have 4 children and 6 grandchildren. Bob is a psychiatrist, currently a trauma-oriented community psychiatrist serving as associate director of the UPMC Center for Public Service Psychiatry. To communicate the place of healing and spirituality in his work, he describes himself as a transpersonal psychiatrist, at heart a psychotherapist. Prior to becoming a student of Tempa Lama, Bob was for 20 years a Dzogchen student of Lama Surya Das and convener of the Dzogchen Sangha of Pittsburgh.

Liam McGrath
Programs
Liam has been a Bon practitioner since 2009, a student of Tempa Lama for the past 9 years along with having an active Zazen practice in Manhattan. He lives in New York City and has worked in the construction industry for the past 38 years. He previously owned and operated a construction company until 2012 and is presently a site superintendent managing high end residential building projects. Liam is now helping to organize events in New York City and assist Tempa Lama while in New York.