Pilgrimage to Mt Kailash and Central Tibet through Upper Humla with Tempa Dukte Lama
Due to the ongoing COVID-19 epidemic we will not be offering the Kailash pilgrimage in 2020. We anticipate offering this trip in 2021.
Mount Kailash, Tibet
Tempa Lama will be offering a 22-day pilgrimage from his home valley of Humla, Nepal, to Mount Kailash and Lake Manasarowar in Tibet, as well as sacred sites in Tibet's capital Lhasa. Mount Kailash is one of the most sacred places on Earth. In the Bon tradition, Mount Kailash is viewed as the center of the universe. It is the soul mountain for the ancient kingdom of Zhang Zhung, where Bon originated. Mount Kailash is the citadel of the celestial deity Gekhöd, the patron deity of Zhang-Zhung. The area surrounding this sacred mountain is home to many Bon yogis and yoginis who live in long-term retreat. We will complete the ritual circumambulation of Mt Kailash and then continue onward to the original Menri Monastery, Yungdrung Ling Monastery, and sacred sites in Tibet's capital Lhasa including the Potala, the Jokhang, Sera and Drepung Monasteries, and Norbulinkha Palace.
The pilgrimage trip will include daily teachings, meditation, and Bon rituals with Tempa Lama.
Our journey will begin in Kathmandu, where we will spend the first day sight-seeing and visiting some of Kathmandu's many sacred sites. We then fly to Simikot, Humla, via Nepalgunj. We will spend five days walking through this beautiful green valley along the Karnali river on our way to Tibet. We will pass through the traditional old villages Dharapari (day 5), Kermi (day 6), Yalbang (day 7) and Tumkot (day 8), which are inhabited by Bon, Buddhist, and Hindu people.
Karnali (left) and view towards Dharapari (right) in Humla, Nepal
On day 10 we will cross the border to Tibet and drive to Purang in Western Tibet. On day 11 we will drive to Lake Manasarovar. Lake Manasarovar is one of the most sacred lakes in Tibet, revered by Bon, Buddhist and Hindu people alike. It is one of the highest lakes in the world and is known for its pristine blue color. Stepping on the shore and taking a bath in the sacred Lake Manasarowar or drinking from its water is believed to purify the karma of a hundred lifetimes. We will visit Thugo Monastery and camp by the lake.
Lake Manasarowar, Tibet
On day 12 we will drive to Garuda Valley, and visit Old Bon Cave and the Bon Monastery Guru Gyam. On day 13 we will drive to Darchen at the foot hill of Mount Kailash. Our pilgrimage will then take us along the circumambulation route of Mount Kailash. Circumambulating this sacred mountain can help cleanse the karmic traces of past unwholesome actions. On day 14, we will stop by Dira Phuk Monastery on the north side of the mountain. On day 15 we cross the highest point of our trip, Dolma La pass at 18,600 feet. We will camp at Zutrul Phug Monastery. On day 16 we will complete the circumambulation of Mount Kailash and drive to Saga.
Dolma La pass, Tibet
On days 14, 15 and 16 we will explore and enjoy the vastness and beauty of the Tibetan plateau on our way to Paryang, Saga and Sangsang. On day 17 we will arrive in Shigatse where we visit Tashi Lunpo Monastery, the traditional seat of the Panchen Lama.
On day 18 we will visit the Bon monasteries Menri and Yungdrung Ling. Menri Monastery was the traditional seat of Bon for many centuries prior to the re-establishment of Menri in exile in India. It was established in 1405 by the Bon master Nyamed Shenrab Gyaltsen in place of Yeru Wensaka, which had been destroyed by a flood. Since then, Menri has become the mother monastery of all Bonpos, and the abbot of Menri is given the title of world spiritual head of the Bon tradition. Until 1959 there were about 500 monks studying in four colleges of Menri: Lingmed, Lingtod, Lingke and Lingzur. Yungdrung Ling Monastery was founded by Ling Nangton Dawa Gyaltsen in 1836. It became the second largest Bon study center in central Tibet next to Menri Monastery, with four colleges: Kunseling, Kunkyabling, Kundragling and Yungdrungling.
We then drive to Gyantse, where we will visit Palcho Monastery with the Kumbum Stupa, one of the most famous and exquisitely built and decorated temples in Tibet. This stupa is built as a sacred Mandala – a concentric and very detailed design that symbolizes the awakened body, mind, and energy of the Awakened One.
Days 19 we will drive to Lhasa. Days 19-21 will be spent in Lhasa. On day 20 we will visit the Jokhang and the Potala. We will visit Barkhor Street with its holy ritual walk path and colorful market, and will have time to look for gifts for our loved ones.
The Potala Palace was the traditional winter residence of His Holiness the Dalai Lama and the main spiritual and political center of Tibet until the escape of the 14th Dalai Lama from Tibet in 1959. Built in 637 by king Songtsen Gampo, the Potala is famous for its architectural beauty and grandeur and has been inscribed to the UNESCO World Heritage List in 1994.
The Jokhang was the first Buddhist temple built in Tibet around 642 by king Songtsen Gampo for his Buddhist wife, princess Wen Cheng of China. 'Jokhang' means 'House of the Buddha'. The Jokhang is regarded as the most holy place to many Tibetans and has been the destination for millions of Tibetans on pilgrimage. The sacred shrine in its main hall houses the Jowo statue of Shakhyamuni Buddha, the oldest Buddhist statue of Tibet, brought by princess Wen Cheng 1,300 years ago. The Jokhang is also part of the Unesco World Heritage Site "Historic Ensemble of the Potala Palace".
On day 21 we will visit Drepung Monastery, Sera Monastery and Norbulingka Palace. Prior to 1959, Drepung was the largest monastery in Tibet – and in fact in the world, hosting between 7,000-10,000 monks. Drepung was founded in 1416 by Jamyang Chojey, one of Je Tsongkhapa's most learned disciples. It also houses Ganden Palace, the residence of the early Dalai Lamas. Sera Monastery was one of the three main centers of monastic study in the Tibetan Gelugpa tradition, next to Drepung and Ganden Monasteries. The Assembly Hall of Sera Je hosts five chapels dedicated to Chenrezig – the Buddha of compassion, Maitreya Buddha, Sakyamuni Buddha, Tsong Khapa, and the assembly of Arhats.
Norbulingka Palace served as the traditional summer residence of the Dalai Lamas until 1959. Norbulingka is recognized as a UNESCO World Heritage Site. It houses thousands of relics, and its horticultural park on 89 acres known as "Treasure Garden" is the most famous garden and park in Tibet.
On day 22 we will fly back to Kathmandu and complete our journey.
---
---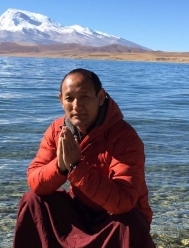 About Dukte Tempa Lama
Genyen Tempa Dukte Lama is an ordained lama of the Tibetan Bon tradition. He is the founder and spiritual director of Olmo Ling Bon Center and Institute in Pittsburgh, PA, and co-founder of Humla Fund. He is an artist and poet and has authored five books: Thrul Khor: Ancient Tibetan Bon Yoga (2019), Heart Drop of the Loving Mother (2014), Journey into Buddhahood (2013), Inexhaustible Miracles (2011) and The Intimate Mind (2011). He is dedicated to making the Bon teachings available in the West through teachings and publications and through training senior students.
Tempa Lama studied at Menri Monastery, India, from a young age under the close guidance of the late H.H. 33rd Menri Trizin, the worldwide spiritual head of the Bon tradition until 2017. Tempa Lama has lived in the US since 2000 and teaches in the US, Canada, Mexico and Europe, helping people bring a practice of healing and happiness into their lives.
Over the past 20 years Tempa Lama has led and co-led many pilgrimage trips to Tibet, Nepal and India (Menri Monastery) as well as medical service trips to Humla, Nepal.
---