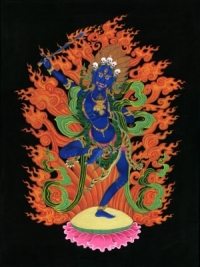 A free online event with Tempa Dukte Lama, April 4, 10am-12:30pm EST
Sidpa Gyalmo, the healing manifestation of the Great Loving Mother, has been traditionally invoked during times of epidemic illness. Tempa Lama will be offering a 2.5 hour online session dedicated to the Sidpa Gyalmo Healing Waters Practice. This practice is a powerful pathway to reconnect with our innate capacity of healing ourselves and others and to send these healing blessings into a vase of water sitting in front of us during our practice. Tempa Lama will offer the instructions and transmission of the Healing Waters Practice and will then guide us in practicing together.
Please note that this is a different healing practice than the one previously offered on March 21.
Pre-registration is required for this event. Register in advance…
After registering, you will receive an automatic confirmation email with the Zoom link and we will email the handout to all registered participants before the event.
Good news: given the tremendous interest in the healing practice offered on Saturday 21, we have significantly increased our participant limit and will be able to accommodate everyone this time!
This event is offered free of charge. We would be grateful for a donation to help us maintain Olmo Ling during this time of limited operations. Thank you!