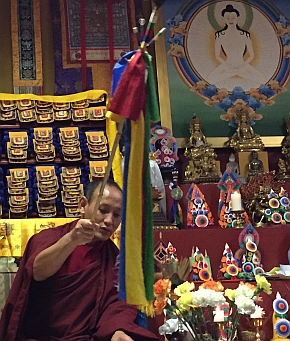 Sidpa Gyalmo Longevity and Prosperity Practice with Tempa Lama via Zoom
Saturday August 28 and Sunday August 29, 9:30am-12:30pm ET
Simultaneous translation in French, Polish, Spanish, and Russian will be available.
Tempa Lama will offer the teaching, practice instruction, and transmission of the Longevity and Prosperity Practice of Sidpa Gyalmo called Sidgyal Tse Nor Drub Pa. This more detailed teaching is also very well suited to those who received the shorter teaching on this practice from Tempa Lama last year.
Sidpa Gyalmo is the chief protector of the Tibetan Bon tradition; she is the fierce manifestation of the Great Loving Mother. The Sidpa Gyalmo Longevity and Prosperity practice is of great benefit to develop a deeper connection with the Great Mother Sidpa Gyalmo and to strengthen our longevity and prosperity and transform difficulties related to our livelihood. While this practice can be explained in one session, Tempa Lama will be taking more time to offer a more detailed explanation of the practice view, the five divine energies and five individual deities and their contribution to our wellbeing, and the practice of the generation stage and completion stage.
Registration
We are offering this teaching free of charge to enable everyone to benefit from the blessings of this ancient practice of the Great Mother. We are grateful for donations of any size to support our intention of offering free teachings.
Generous donations and memberships from our community have enabled us to maintain the Olmo Ling temple space and pay for necessary expenses during this time of closure. We are currently preparing to open for in-person teachings and meditation at reduced capacity in the fall and are saving for necessary repairs to Olmo Ling. As we reopen, we will continue to stream both the weekly evening talk and weekend teachings so that our global community can continue to participate. Thank you so much for your continued support!
Register online
here.
Registered participants will receive a handout of the practice liturgy prior to the teaching.
Donate by credit card
Donate by Paypal
You can also donate by check by mailing it to Olmo Ling, 1101 Greenfield Ave, Pittsburgh

PA 15217

. Thank you for your generosity!
Offering to the teacher
If you would like to thank Tempa Lama for his teachings, you can offer a donation here.
Thank you for your generosity!