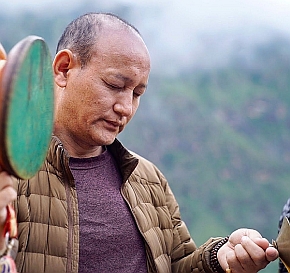 Teacher Support
Offering to Tempa Dukte Lama
We invite you to make an offering to Olmo Ling founder and resident teacher Tempa Lama in recognition of the teachings that he is offering. Tempa Lama has dedicated his life to preserving the ancient Bon wisdom teachings and making them available and accessible in the West. He is offering a free weekly program with meditation, Chod practice, and an evening talk at Olmo Ling, regular retreats and teachings, individual guidance and meditation instruction, as well as extensive work on Bon translations and books to support Western practitioners.
Tempa Lama's vision includes offering long-term training to senior students so that they can study the Bon teachings in-depth and learn traditional Bon rituals. This can in turn benefit many beings and help the Bon teachings take root in the West.
We are very grateful to be able to support Tempa Lama with your generosity. Thank you!
Donate toward Tempa Lama by PayPal
Donate toward Tempa Lama by Stripe | Credit Card
Thank you so much for your offering to Geshe Tsewang Ngodup Rinpoche. Geshe Tsewang Ngodup Lama is the first Geshe in the Yungdrung Bon tradition from Humla, Nepal. Rinpoche studied at Menri Monastery, India, from 1992 and was awarded the Geshe degree at Menri in 2014. On March 8th, 2023, the auspicious birth anniversary of Buddha Tonpa Shenrab, he was enthroned as the abbot of Pal Samten Due Dul Wosel Ling Monastery in Humla with the blessing of His Holiness 34th Menri Trizin Rinpoche and His Eminence Menri Ponlop Yangton Thinley Nyima Rinpoche. He is currently serving as General Secretary at the Yungdrung Bon Monastic Centre.
Offering to Geshe Tsewang Ngodup Rinpoche by PayPal
Offering to Geshe Tsewang Ngodup Rinpoche by Credit Card