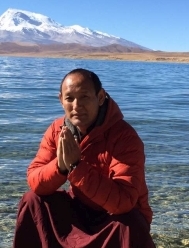 Retreat on the Ten Perfections with Tempa Lama
Khungdzong Wodsel Ling, 1977 N. New Hampshire Ave., Los Angeles,

CA 90027

-181867
Saturday July 1, 10am-5pm and Sunday July 2, 10am -4pm

The Ten Perfections are a core practice on the path of compassionate beings. The basis of the path of compassionate beings is the recognition of the interdependent nature of all beings. The practice of the Perfections helps us actualize this recognition so that all our actions are truly beneficial for ourselves and others. Through relying on the practice of the Perfections, the virtuous qualities of the mind of awakening arise in us and become the skillful means for clearing obscurations.

Tempa Dukte Lama will offer teachings on each of the Ten Perfections and guide us in exploring how we can actualize them in our lives. We will learn and explore how we can cultivate the awakened qualities of generosity, morality, patience, effort, concentration, power, compassion, aspiration, skillful means, and discriminating wisdom, and manifest them as skillful means to transform our own life and the lives of others.

Tempa Dukte Lama

is an ordained lama of the Tibetan Bon tradition. He is the founder and spiritual director of Olmo Ling Bon Center and Institute in Pittsburgh, PA, and co-founder of Humla Fund. He is an artist, poet, and author of four books. Tempa Lama studied at Menri Monastery, India, under the close guidance of H.H. 33rd Menri Trizin, the world-wide spiritual leader of Bon. He has lived in the US since 2000 and teaches internationally, helping people bring a practice of healing and compassion into their lives.
Registration
Weekend rate is $100.00, Friday only is $20.00.
To register, please contact Dika Ryan at (323) 913-0584, dikaryan@sbcglobal.net, or send a check to:
Dika Ryan
1977 N. New Hampshire Ave.
Los Angeles, CA 90027-1818