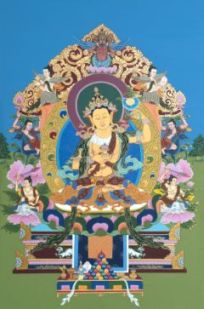 The Heart Drop of the Loving Mother
Daylong Tibetan Bon Healing Retreat with Tempa Dukte Lama
Saturday April 26, 9:30am-5pm (includes lunch).Spencertown Academy Arts Center, 790 Route 203, Spencertown, NY
Join us for a daylong retreat on the ancient Tibetan healing practice "Heartdrop of the Loving Mother" with Tibetan lama Tempa Dukte Lama. Tempa Lama will teach the Heartdrop of Sherab Jamma, the female Buddha of love and wisdom, or 'Loving Mother of Wisdom' and guide us in meditating on the Loving Mother together. Sherab Jamma is one of the four 'Transcendental Lords' of Bon and the highest deity of the Tibetan Bon tradition. This ancient Bon healing practice opens us to our innate potential of love, compassion, wisdom and healing.
The Retreat is both for those who are new to the Loving Mother meditation practice and for those who have learned this practice previously. It is for all who would like to deepen their spiritual practice and for all who are interested in healing and the Bon healing tradition, including people who personally need healing or are working with others who are ill.

Registration
Costs: $125, includes lunch.
Proceeds from this daylong Retreat will support the
Humla Medical Service Trip
.
To register and for questions please contact Heidi Harding at hardingheidi@aol.com or 518-392-7001.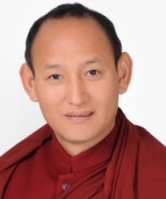 About Tempa Dukte Lama
Tempa Dukte Lama is an ordained Tibetan Bon lama and the founder and spiritual director of Olmo Ling Bon Center and Olmo Ling Publications. He is an artist, poet, and the author of Journey into Buddhahood, The Intimate Mind, and Inexhaustible Miracles. Tempa Lama was born in Nepal, close to the Tibetan Border, into a family of Bon and Nyingma practitioners and healers. He trained in Menri Monastery, India, from the age of six under the close guidance of H.H. 33rd Menri Trizin, the spiritual head of Bon. He has lived in the US since 2000 and teaches internationally, helping people bring a practice of compassion, healing, and happiness into their lives.