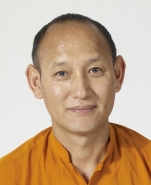 Tibetan Healing Retreat: Bon Medicine Buddha Practice
With Tempa Dukte Lama
Alma Yoga, Hancock, NYSaturday June 21 & Sunday June 22, 2014
During this weekend Retreat we will learn and practice the healing meditation practice of the Medicine Buddha. The Medicine Buddha practice and teachings as taught in the Tibetan Bon tradition originated with the Awakened One Tonpa Shenrab. The Medicine Buddha is a compassionate manifestation of Tonpa Shenrab. Tempa Dukte Lama will offer teachings on the meditation and visualization of the Medicine Buddha and how we can use this practice to free ourselves from obstacles in our lives, heal ourselves and others, and be protected from illness. He will also offer the transmission for this practice.
This ancient healing practice and the blessings of the Medicine Buddha restore and strengthen our energy. This weekend retreat is for all who are ill or in need of healing, for those who work with others who are ill, and for all who would like to benefit from the blessings of this healing practice and use it to help others.
About Tempa Lama
Tempa Dukte Lama is an ordained Tibetan Bon lama. He studied in Menri Monastery, India, from the age of six under the close, personal guidance of His Holiness 33rd Menri Trizin, the spiritual head of Bon. Tempa Lama is the founder and spiritual director of Olmo Ling Bon Center in Pittsburgh, PA. He is an artist and poet and author of three books with Olmo Ling Publications, the first Bon publishing house which he founded in 2011. Tempa Lama is dedicated to making the ancient teachings of Bon available and accessible in the West, helping people bring a practice of compassion, healing and happiness into their lives.
Registration
For all questions regarding this teaching and to register, please contact:
Alma Largey
email: almayoga@yahoo.com
phone: (607)637-4444