Second visit of His Holiness 33rd Menri Trizin to Olmo Ling Bon Center in May 2013
We were deeply honored to have hosted His Holiness Menri Trizin, Lungtok Tenpa'i Nyima, at Olmo Ling again in May 2013. His Holiness and his attendants spent 6 unforgettable days with Tempa Lama and the Olmo Ling community in Pittsburgh. We were able to accommodate His Holiness and his attendants at a beautiful, quiet but central cottage with a yard owned by community members in Pittsburgh-Shadyside.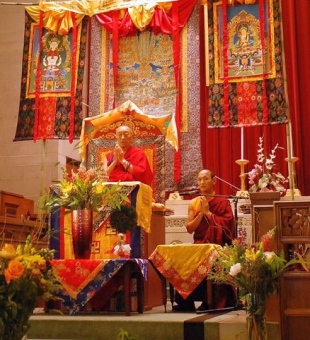 His Holiness is the spiritual head of Bon, one of Tibet's five main spiritual traditions, and the 33rd abbot of Menri Monastery in Himachal Pradesh, India. Originally based in Tibet since 1405 and re-established in India in 1967 by His Holiness, Menri Monastery is the main spiritual center of Bon offering higher philosophical studies and the Bon Geshe (doctor of philosophy) degree.
His Holiness gave a profound public talk and blessing on Ordinary Mind and the True Nature of Mind on Saturday, May 25 from 3-5pm at the 1st United Methodist Church.
Following an initial introduction to the three Bon Paths of Liberation by Tempa Lama, His Holiness offered a clear explanation of mind and the fundamental nature of the mind, which is inconceivable, beyond birth and death and beyond any fabrication or modification. His Holiness explained the difference between ordinary mind and the nature of the mind. He clarified that while we often look outside ourselves, recognition of the nature of the mind comes from inside ourselves, following our preparatory practice and the introduction to the nature of the mind by our teacher.

Benefit Dinner with His Holiness
Following the public talk, the community joined His Holiness for a benefit dinner in support of the children and nuns of Menri Monastery. Lovingly prepared by our very own chefs, Elizabeth Schandelmeier Gilgunn and Gary Terner, the Benefit Dinner featured a selection of Hors D'oeuvre, a dinner buffet, and desserts. Guests were entertained by live music and participated in a raffle with prizes including a mala blessed by His Holiness, an original calligraphy by Tempa Lama, a scholarship to a weekend teaching at Olmoling, an original work of art by community member artist Kate Bazis, and several gift baskets.

Supporting the nuns and children at Menri Monastery
Proceeds from the visit were offered to His Holiness to support hte nuns and children at Menri Monastery. H.H. has spent most of his life establishing Menri Monastery in exile in India. Under his guidance, Menri has become a thriving center of Tibetan religion and culture. Approximately 500 monks and nuns live at Menri, dedicating their lives to spiritual practice, study, and service.
His Holiness has given great care to offering the same spiritual education opportunities to both monks and nuns. The Redna Menling nunnery of Menri that he has established is the only Bon nunnery in India. Many of the nuns have gone through great hardship to be able to come to Menri and lead a monastic life of meditation, study, and service. At Menri they are able to study and eventually receive the Geshe (doctor of Philosophy) degree.
The Children's Welfare Center at Menri enables girls and boys to attend school and begin monastic studies. The Bon Children's Home offers a home and secular education to boys and girls who are orphans, refugees or from very poor families and remote areas without access to education. The education and loving support that they receive at Menri enables the children to earn their livelihood and use their skills to be part of building the future of the Tibetan Bon community.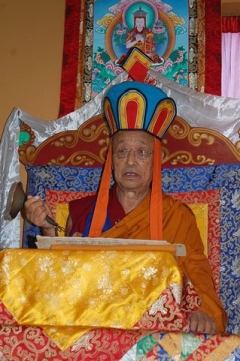 Du Tri Su Empowerment with His Holiness
On Sunday May 26, His Holiness offered the Du Tri Su Empowerment for the Olmo Ling community at Olmo Ling temple.
In advance of His Holiness' arrival at Olmo Ling temple, Tempa Lama and volunteers prepared the sidewalks leading to Olmo Ling with chalk drawings of the Du Tri Su mantra.
Du Tri Su is the heart practice of Bon to clear the karmic conditioning and suffering of the lower realms and the obstacles in our present life. This empowerment is very much needed to clear obstacles such as illness, disease, misfortune, sadness and depression, or natural catastrophes that may arise due to environmental changes or karmic conditions.
Receiving this empowerment from His Holiness is a profound blessing. Such an empowerment has great benefits for those present and their families, now and in future lives. Our community is deeply grateful for His Holiness' generosity in bestowing this empowerment.