About Music for Menri
Music for Menri provides:
Western instruments (e.g., violins and piano keyboards) and music lessons to nuns in the Renla Menling Nunnery at Menri Monastery.
Western music education to students in the Menri Monastery school, including children from The Bon Children's Home at Menri.
Transcription of Bon chants and other sacred music into western notation to ensure perpetuity.
Modern orchestration of traditional Bon chants.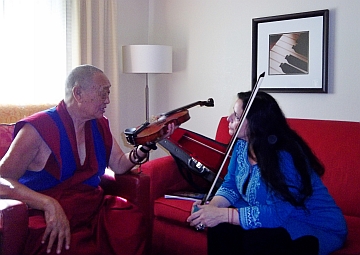 Music for Menri Begins
In 2012, at the invitation of His Holiness the 33rd Menri Trizin, spiritual head of the Tibetan Bon tradition, Eileen Nadzam traveled to Menri Monastery, Dolanji, India, to initiate a music program that includes reading, performing and writing music at the Redna Menling Nunnery. Eileen brought several violins (generously donated by the People-to-People Project of Sigma Alpha Iota [SAI] International Music Fraternity), which she gifted to the nuns and then began serious training with them.
The nuns were in awe of the violin – an instrument foreign to their culture – and eagerly embraced their lessons. Eileen's visit coincided with Losar (the Tibetan New Year), a time during which the nuns were busier than usual but eagerly set aside time for their music lessons.
Eileen conducted music lessons in a "show and tell" manner due to the language barrier, but the nuns easily understood her intent since music is an "international language." The nuns eagerly attended their lessons and patiently shared the violins with their classmates; older nuns frequently assisted younger ones.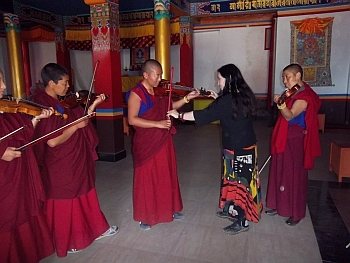 His Holiness visited the music classes several times during Eileen's visit, which was an honor for the nuns and for her. His Holiness is pleased that the nuns have this opportunity to learn western music.
His Holiness recently opened religious offices within the Bon tradition to all nuns, including the removal of all barriers to their education. His Holiness has expressed his desire to see nuns included in all rituals, including those that have traditionally been restricted to male monks. His Holiness desires to add the use of western instruments to the traditional Bon rituals. While the Bon ceremonies and chants will not change, the addition of non-traditional Bon instruments will give the nuns a new and unique standing within the ceremonies.