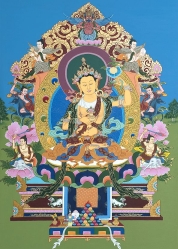 Heart Drop of the Loving Mother with Tempa Lama
Three Saturday mornings via Zoom: April 25, May 2 and May 9, 9:30am-12:30pm EST
Tempa Dukte Lama will teach the ancient Tibetan Bon meditation practice 'Heartdrop of the Loving Mother'. The Great Loving Mother of Wisdom or Sherab Jamma is the female Buddha of love and wisdom. The Heart Drop of the Loving Mother Practice is the essence of the teachings of Sherab Jamma. This practice connects us with our primordial capacity to love and care unconditionally for one another and for ourselves. If we take some time for this practice every day, it will deeply transform us. The true quality of the Loving Mother is within us from beginningless time, and it will be there forever. Practicing the Loving Mother means that we recognize this quality within ourselves. Based on this recognition we nurture it and finally use it as a skillful means of refuge and protection for the self and others.
The Great Loving Mother is traditionally invoked as the protector from the Eight Fears afflicting us humans. The eight fears are the fear of enemies, sorcery or curses, infertility, nagas, extreme views, faults or insecurities, death, and negative planetary forces. The Loving Mother protects us from the grasp of these eight dreads.
Tempa Lama will explain the liturgy and visualization, offer the transmission of this practice and guide us in meditating on the qualities of the Loving Mother.
Registration and practice materials
Pre-registration is required for this free Zoom teaching. Register here for all three teaching sessions. You will receive an automated email with a link to join the meeting; this link is individual to you and should not be shared. If you are not on our mailing list and would like to be emailed with future teaching announcements, you can sign up for our mailing list here.
Participants will receive a copy of the practice liturgy in English and Tibetan. You can purchase a book by Tempa Lama on the Heart Drop of the Loving Mother practice with a much more detailed explanation of the visualization, liturgy, and the original transmission of this practice via our online bookstore. We also offer a deity card of the Loving Mother as a reprint of a detailed Thangka painting by Tempa Lama. We ship internationally and are able to ship quickly!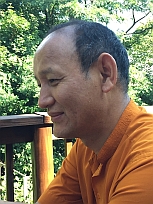 Donations for this teaching
There has been tremendous interest in receiving teachings on Sidpa Gyalmo and the Great Loving Mother at this time. Tempa Lama feels that these practices are incredibly beneficial to support us in maintaining good health, facing economic challenges, and strengthening our connection to our spiritual practice. He would like everyone to be able to benefit from these practices. Therefore we are offering this teaching free of charge.
Donations of any size are gratefully received. Your donations help us continue this free offering of teachings while maintaining Olmo Ling temple during the COVID-19 closure. Thank you for your generosity and may you and your family stay healthy and strong at this time!
Donate via PayPal:
Thank you for your generosity and may you and your family be healthy and well!
If you would like to make an offering to Tempa Lama to thank him for these teachings, you can do so here. Thank you for your support!
Recording of the liturgy – chanted by Tempa Lama