Help us protect the people of Humla, Nepal, from
COVID

-19

We need your help to treat illness from COVID-19 and limit the spread of the virus in the remote Humla valley of Nepal. Humla is the place where Tempa Lama was born and spent the first six years of his life before beginning his studies at Menri Monastery, India.

Update June 12: We have successfully reached our fundraising goal of $25,940. Thank you so much to all our generous donors!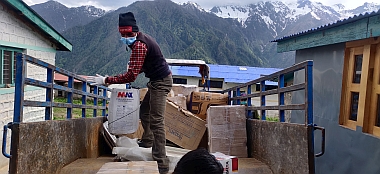 Update, June 7:
On behalf of Tempa Lama we would like to extend our sincere gratitude to all those who have generously donated!! Thanks to your generous support we have been able to order medical supplies including oxygen concentrator, ventilators, hospital beds with monitors, oxygen masks, essential medicines for current and future patients, high flow nasal cannulas, oximeters, and protective equipment. The supplies have now arrived safely in Humla. Scroll down for pictures!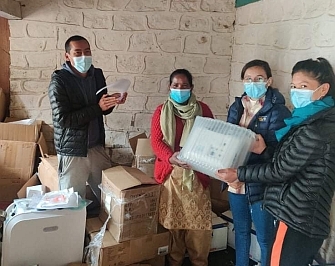 Thanks to the generous support of our donors we were also able to offer a small donation to the brave frontline workers in Humla.
This includes doctors and nurses at the hospital and a handful of "mountain paramedics" who make emergency visits to patients assisted by mules. Throughout our years of working with the people of Humla, the question of how to sustain qualified healthcare and education workers has been a critical theme. Large parts of Humla do not have electricity or running water and living standards are low. Doctors and nurses will receive their education elsewhere and then choose to live in this remote region to serve people in need. Therefore it is so important to honor the dedication shown by these brave doctors and nurses.
---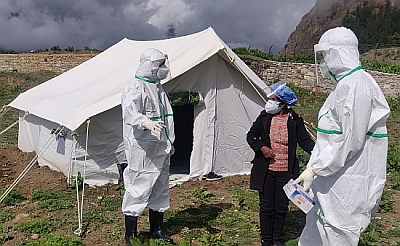 Tempa Lama has been working to support the people of Humla and Nepal for many years, both with Olmo Ling through programs including the 2015 Earthquake Relief Project and the Olmo Ling Children's Fund and with the non profit organization Humla Fund, which he co-founded in 2015. Humla is one of the world's most remote areas, with a population of around 50,000 spread across small villages and the capital of Simikot, where a small district hospital is located.
Tucked into the mountains in Nepal's Northwest, adjacent to the sacred Mt. Kailash region of Tibet, Humla is home to a rich cultural tradition in which Bon, Tibetan Buddhist, Shamanic, and Hindu elements coexist. Humla remains very difficult to access and is one of the poorest districts of Nepal. The lack of access to healthcare and education is perpetuating the cycle of poverty. While children in Humla are incredibly keen to get a modern education, the sheer remoteness of the valley, difficulties in retaining school teachers, and the reliance on subsistence farming and hard work are creating many obstacles for school access.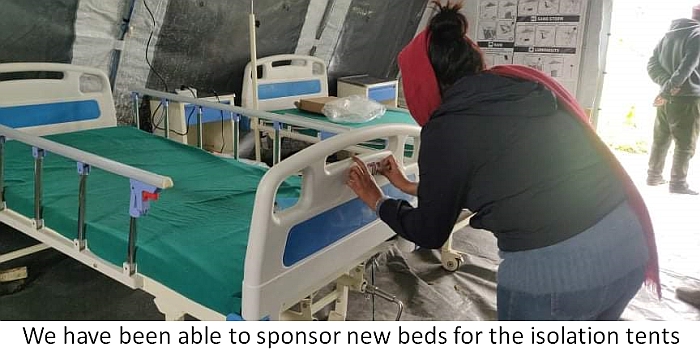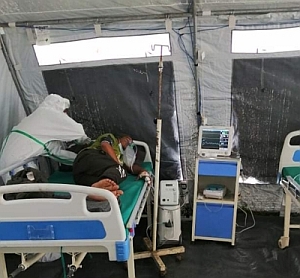 We have been working with Dr. Tashi Wangchuk Lama, medical superintendent of the small district hospital of Humla and nurse Kelsang Dolma to identify and meet the hospital's needs. The goal is to effectively treat those who are ill and limit the further spread of COVID. Limiting COVID in Humla requires having a place where symptomatic patients can be safely isolated and treated. The hospital currently has only seven beds for intensive care, however, these beds are not isolated from other hospital patients.
Dr. Tashi Wangchuk Lama was able to set up isolation tents received from the United Nations to isolate and treat symptomatic COVID cases. With your generous donations we have been able to purchase intensive care beds, ventilators, monitors, nasal cannulas and other supplies to treat those who are seriously ill. We were able to cover the cost of essential medicines to treat 100 seriously ill COVID patients in the coming weeks. And we have sponsored much needed masks, gloves, sanitizer, and PPE equipment for hospital staff. We hope that in the future a vaccine may become available. At the moment, the Nepali government is only vaccinating the elderly and healthcare workers, not to the general population. Humla poses the additional problem of its sheer remoteness.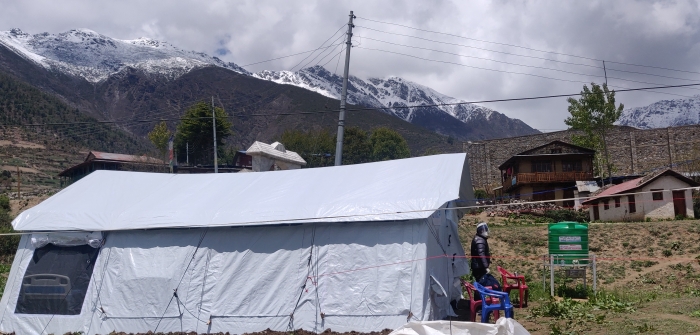 We have successfully reached our final fundraising goal of $25,940. Thank you so much to all our generous donors!!
We are deeply grateful to have raised more than $25,000 for COVID patients in Humla. Olmo Ling is a 501 (c)(3) non profit organization and all donations are tax deductible. Thank you so much for your generosity!