Menri Monastery | Public Restroom Fundraiser
May 24, 2022 Update: Thank you for Making Our Fundraiser a Success!
We would like to thank everyone who has generously contributed to the Menri Monastery Public Restroom Fundraising Campaign. Thanks to everyone's tremendous support, we have reached our goal!
We will be sending the funds to Menri Monastery shortly and the Yungdrung Bon Monastic Center at Menri Monastery will begin building its much-needed public restroom.
We hope to be able to share some pictures in the upcoming months!
---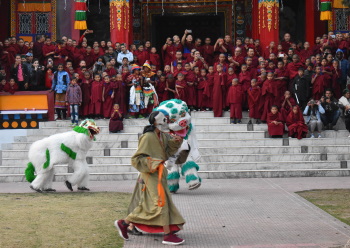 Menri Monastery is Requesting Our Help
Yungdrung Bon Monastic Center at Menri Monastery in Dolanji, India has reached out to Tempa Dukte Lama and the Olmo Ling board to ask for help in raising funds for installing restrooms for their general public. Menri Monastery is the Mother Monastery of the Bon tradition. Tempa Lama lived and studied at Menri from the age of six. Later Olmo Ling Bon Center became formally affiliated with Menri and we are honored to have hosted two visits by His Holiness 33rd Menri Trizin in 2011 and 2013 and a visit by His Holiness 34th Menri Trizin, respectively the former and current spiritual head of Bon and Abbot of Menri.
This deep connection with Menri and the Menri Abbot has been a profound blessing for all of us and a guiding light for Olmo Ling.
The central government of India is now requiring any community or monastic center where people gather to have a functioning public restroom. The construction of a public restroom at Menri Monastery will not only support cleanliness and public health but also protect the well-being and health of the monastic community.
We feel deeply honored to be invited to offer our assistance. This project will be instrumental in supporting public health and ensuring the comfort of visitors who benefit from the blessings and teachings offered at Menri. Through addressing this very mundane need we are able to offer a sacred and precious gift.

The Importance of Menri Monastery
Situated in Dolanji in the mountains of Northern India, Menri Monastery is the main spiritual center of the Tibetan Bon tradition in exile. Menri offers a home to hundreds of monks, nuns, and Tibetan children, and the opportunity for both monks and nuns to study within the Bon system of higher education toward the Geshe (doctor of philosophy) degree. Menri and its predecessor Yeru Wensaka have been the heart of the Bon tradition for many centuries.
His Holiness 33rd Menri Trizin and His Eminence Yongdzin Lopon Tenzin Namdak Rinpoche re-established Menri Monastery in exile in the 1960s and 70s. His Holiness established a monastic center with a dialectic school. Monks and nuns can study equally toward the Geshe degree, the highest degree offered within the Tibetan traditions. Menri has grown to include temples for the monks and nuns on opposite sites of the valley, a library with the Bon and Buddhist sacred texts, a dormitory and school for Tibetan children, a lay temple and guesthouse, a Tibetan medical school and health center, craft workshops, and a farm and lay settlement on the surrounding lands.
Following the passing of His Holiness 33rd Menri Trizin into parinirvana on September 14, 2017, Geshe Dawa Dhargye was determined as the new spiritual head of Bon and 34th Abbot of Menri on January 1, 2018. Geshe Dawa Dhargye's name arose from the prayer urn with the names of all eligible Geshes after a special weeklong prayer ritual with nuns and monks from across Asia. Thanks to the generosity of our community, Olmo Ling was able to make an offering on the occasion of the enthronement of the 34th Menri Trizin and we were able to host his visit in summer 2019.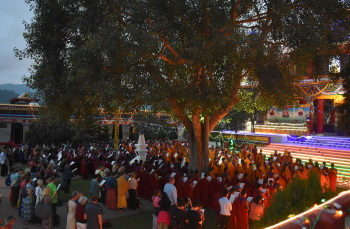 Menri Monastery and Its Place for the Wider Community
Menri Monastery hosts many visitors from Western countries as well as local visitors from nearby villages, towns, and cities throughout the year. Menri also celebrates many larger public events with hundreds of visitors, including empowerments, religious celebrations, prayer ceremonies, holiday festivals, and the annual Geshe (Doctor of Philosophy) graduation.
The lack of a public restroom is causing great difficulties during large public gatherings. It has also proven to be very challenging for villagers who visit for the day, including children and the elderly.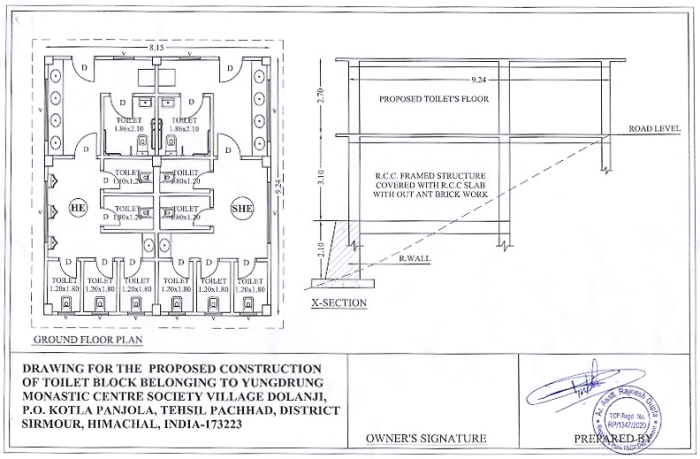 Estimated Costs for Construction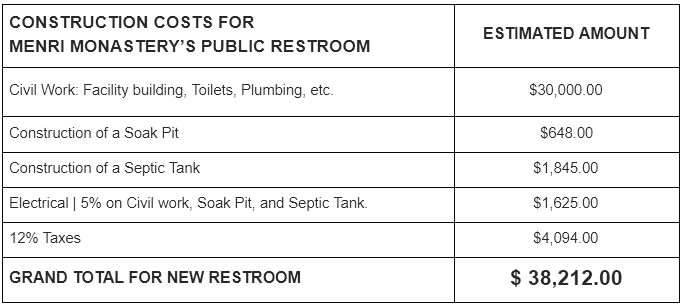 Approximate Breakdown of Civil Work Per Side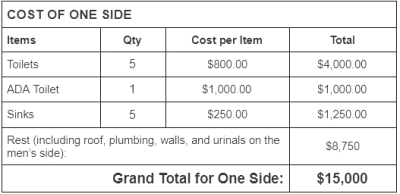 The Ladies' and Gentlemen's Side of the Building Will Each Consist Of:
5 (five) toilets with stalls
1 (one)

ADA

toilet stall
5 (five) sinks
3 (three) urinals – men's side
Cost per side also includes civil labor, plumbing, and additional materials that completed a finished restroom.
We Thank You So Much for Your Generosity!