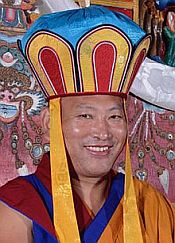 Visit of His Holiness 34th Gyalwa Menri Trizin Lungtok Dawa Dhargyal Rinpoche to Olmo Ling – August 2019
We are deeply honored to have hosted His Holiness the 34th Gyalwa Menri Trizin, spiritual head of the Tibetan Bon tradition, at Olmo Ling as part of his first world tour. Following the passing of the late 33rd Menri Trizin last fall, Geshe Dawa Dhargyal was determined as the new spiritual head of Bon and Abbot of Menri on January 1, 2018 following an intensive weeklong prayer ritual conducted by Bon nuns and monks from across Asia.
His Holiness spent one week at Olmo Ling Tibetan Bon Center. He was accompanied by Geshe Tsewang Ngodup Lama, general secretary of the Bon Monastic Center at Menri, and Kyungse-la. Olmo Ling also hosted Geshe Chhembel Gurung to provide additional support for the activities with His Holiness.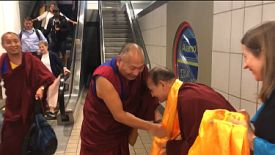 His Holiness' arrival
Upon his arrival to Pittsburgh International Airport on August 5, His Holiness was greeted by Tempa Lama and Olmo Ling Sangha members.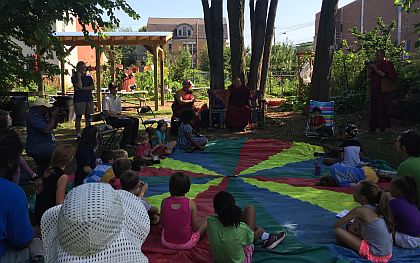 On Thursday August 8, His Holiness visited Art in the Garden at Borland Gardens. He was accompanied by Tempa Lama (who also translated for His Holiness), Geshe Tsewang Ngodup, Geshe Chhembel, and Kyungse-la. Art in the Garden is a program of the non profit OMA supported by the Heinz Endowments. This summer camp is free for all children eligible for free/reduced school lunch and low cost for all other participants. The program is centered around investing in the resiliency and social and emotional development of Pittsburgh's youth. His Holiness was greeted by the children with a song. He shared a story with the children and answered questions. He was then offered a tour of the garden by some of the children. It was heartwarming to see His Holiness' warmth and joy at engaging with the children, and to see how much the children enjoyed spending time with him.
We are grateful to Peter Smith at the Post Gazette for writing a great article about His Holiness' visit to Art in the Garden.
His Holiness visit to Mayor Peduto's office
Pittsburgh's mayor Bill Peduto invited His Holiness to visit on Friday August 9. His Holiness was accompanied by Tempa Dukte Lama, Geshe Tsewang, Geshe Chhembel, Kyungse-la, Olmo Ling director of development and co-founder Iris Grossmann, and board member Emily Carlson. Mayor Peduto expressed his support for His Holiness' visit and his efforts to promote friendship and spiritual values. He also described his work to bring mindfulness practice into Pittsburgh's hospital and medical education. We are very grateful for Mayor Peduto's support and the very warm welcome by Peduto and his staff.

Public Talk and Blessing – Awakening the Heart of Compassion
On Friday August 9, His Holiness offered a public talk and blessing Awakening the Heart of Compassion at the First Unitarian Church of Pittsburgh. His Holiness explained why compassion is the basic foundation of awakening our body, speech, and mind. He then offered detailed advice on how we can cultivate the heart and mind of compassion.
The talk was well attended by about 150 people. Following the talk, His Holiness offered individual blessings. Some of the participants stayed on for a group picture (below).
On this special occasion His Holiness also launched Tempa Lama's new book, Thrul Khor – Ancient Tibetan Bon Yoga.

Teaching on the Loving Mother
On Saturday August 10, His Holiness offered a daylong teaching on the Loving Mother of Wisdom Sherab Jamma at Olmo Ling Bon Center. The teaching was attended by 65 practitioners from all over the US.
Benefit Dinner for the children and nuns at Menri
Saturday evening August 10 His Holiness attended a benefit dinner for the children and nuns at Menri Monastery. Menri is offering education, shelter and health care to about 350 girls and boys, many of whom are from poor families in the Tibetan borderlands or are orphans or refugees who otherwise would not be able to receive an education. Receiving an education and loving support at Menri enables them to earn their livelihood and be part of building the future of the Tibetan community.
The nuns at the Redna Menling nunnery at Menri embody the living female lineage of Bon. They are able to receive the same educational and spiritual opportunities as the monks and are able to study toward the Geshe (doctor of philosophy) degree. Many of the nuns have gone through great hardship to be able to come to Menri and lead a monastic life of meditation, study, and service.
The dinner was attended by 65 people and featured authentic Nepali appetizers, entrees and desserts prepared by Uttam Tamang's Nepali Asian Restaurant. We are grateful to all the wonderful volunteers working hard to make this dinner so enjoyable!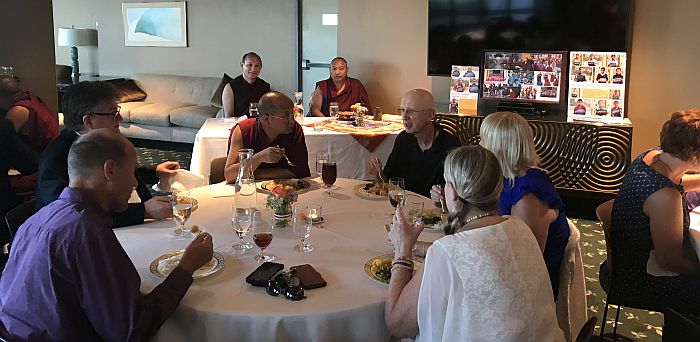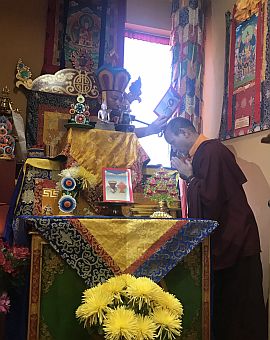 Mawe Senge wisdom deity empowerment
On Sunday August 11, His Holiness offered the empowerment of the wisdom deity Sherab Mawe Senge at Olmo Ling temple. Tempa Dukte Lama offered a translation of His Holiness' explanation of the ritual and how to prepare to receive it.
Traditionally, the abbots of Menri are manifestations of Sherab Mawe Senge. Therefore, receiving this empowerment from His Holiness is especially powerful and holds a lot of merit.
The empowerment was attended by 70 individuals from Pittsburgh and all over the US. We were especially happy to include 8 children who were seated in the front. Everyone in the community is deeply grateful to His Holiness for offering this special empowerment.