Olmo Ling Temple Capital Campaign

To donate, please scroll down or click here.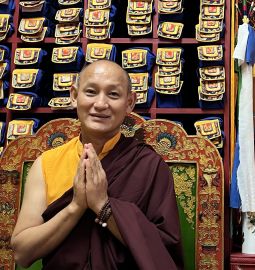 Message from Tempa Dukte Lama
My dear friends, I would like to share the happy news that we bought the building that houses Olmo Ling temple at 1101 Greenfield Ave, Pittsburgh,

USA

, on December 9, 2022.

I would like to take this opportunity to express my profound gratitude for your love and generous support throughout the past fifteen years since I founded Olmo Ling Bon Center & Institute. Your continuous support has made it possible for me to serve the worldwide Bon community. I will never forget your kindness, love, and friendship. Now that we have a permanent temple space, I will do my best and make sure to use it for the benefit of our community.

Olmo Ling temple is the cornerstone of all our work for helping Bon flourish in the West and for our charitable projects in the Himalayan nations of Nepal, India, and Tibet.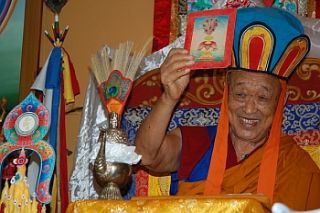 My deep wish and aspiration is that Olmo Ling can be a safe place of refuge and harmony for the local community and the extended world-wide Bon community. My wish is that here the community will have access to well-learned Bon masters and teachers from Nepal, India, and Tibet and learned Western masters. My wish is that Olmo Ling may serve as a place where we can translate ancient Bon texts to provide a resource for study and practice for all who want to learn and deepen their practice. And my single most important aspiration is that Olmo Ling Institute can support Western students who want to train and become responsible Bon teachers and Lamas so that Bon can truly grow roots in the West.
Our temple has received tremendous blessings. His Holiness the late 33rd Menri Trizin, the crown jewel of Bon, has blessed our temple space and offered an empowerment and teachings in 2011 and 2013. In 2019, we hosted His Holiness the 34th Menri Trizin Dawa Dhargye Rinpoche for empowerments, blessings, and teachings. I have taught at Olmo Ling every Tuesday evening since 2009 and have offered many weekend retreats. Many great Bon masters and Western teachers have visited.
I invite you to join us as we raise funds for renovating the upper two floors. Often, long-term students ask about doing personal retreat at Olmo Ling and I have long wished to support this precious aspiration to practice. We will therefore offer the second floor for personal retreats and for accommodation during teachings. The third floor will be renovated as an apartment for rent. Utilizing the entire building in this way will help us sustain our temple and pay the building mortgage.
With my gratitude and prayers,
Tempa Dukte Lama
---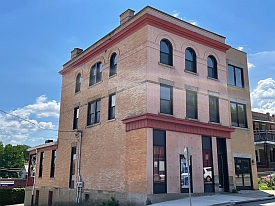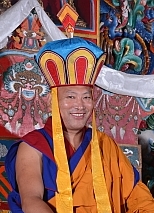 We are humbled and grateful to have received the support of His Holiness 34th Menri Trizin Rinpoche and Menri Shedrup Khenpo Rinpoche for our efforts to establish a permanent Bon temple in Pittsburgh. Both His Holiness and Menri Shedrup Rinpoche have offered special teachings in support of the Temple Capital Campaign (read more here and here).
Olmo Ling temple houses Bon statues, scriptures, and stupas to represent the Buddha's enlightened body, speech and mind. This includes the complete Bon canon (Kangyur) of 179 volumes and over 300 volumes of commentary (Tengyur). We are honored to have thangkas of Sherab Jamma, Shenlha Odkar, Yeshe Walmo, Sangpo Bumtri and Tapihritsa painted by Tempa Lama that carry deep blessings and other Thangkas that we commissioned, including the large Bon Refuge Tree, the Medicine Buddha, Dakini of the Five Elements, and Du Tri Su. Olmo Ling houses traditional Bon statues together with two large statues of the Loving Mother and Tonpa Shenrab made by local sculpturist, Susan Wagner.
---
Budget Phase I: $164,500
Phase I is completed. It covered the down payment and closing costs for the building acquisition on December 9, 2022. Thank you for your generosity!
Budget Phase II: $87,500
With the generous support of our community we have finished renovating the second and the third floors. We plan to offer the second floor for rent for personal retreats and for accommodation during teachings. When not in use for retreats, it will be offered as a Furnished Finders rental. We plan to rent out the third floor as an apartment. We may later convert the third floor to retreat accommodation as well if needed.
Donations have covered most of the renovation expenses. There will be some additional expenses associated with changing the occupancy permit. We will add a budget update as soon as we can!
---
❁
Gifts of $20,000: Circle of Sherab Jamma – Loving Mother of Wisdom.
Name installed on a large plaque at temple entrance
Tim Aitken, L.Ac. (matching gift)
❁
Gifts of $10,000: Circle of Tonpa Shenrab – Founding Buddha of Bon.
Name installed on plaque at temple entrance
Linda Wellner, MD (matching gift); In Memory of Michael J. Smith; In Memory of Christopher Ingham Weiss; and three anonymous donors
❁
Gifts of $5,000: Circle of Shenlha Odkar – Buddha of Compassion.
Name installed on plaque at temple entrance
Andrew Kaiser; Alma Largey and Sheila Goloborotko; Moira Notargiacomo; and seven anonymous donors
❁
Gifts of $1,000: Circle of Sidpa Gyalmo – Chief Protector of Bon.
Name installed on group plaque at temple entrance
Lisa & Fred Berry; Debbie & Mike Conway; Mark & Phi-Anh Coors; Jim DelBianco; Thien & Dr. Silva Doan; Vicki Jenkins; Eileen Nadzam; Stephen and Mary Seymour; Tova Tarr; Alysia Tromblay & the Bon Future Fund; Bernadette Clevenger; Joe Zilincar; In Name of Peter, Carla, and Georgia Namuth; and nine anonymous donors
Raised for Phase II out of our $87,500 goal: $55,325.64
---
Donate by PayPal
Donate by Credit Card
Donations by Check and Other Donations
Checks, cashiers checks and annuities can be made out to and mailed to Olmo Ling, 1101 Greenfield Ave, Pittsburgh, PA 15217 (please include a note or write "capital campaign" into the memo).
To donate stocks, please contact Joanna at joanna@olmoling.org
If you would like more information, including financial records, please contact Joanna.
Olmo Ling is a United States 501( c )( 3 ) tax-exempt non-profit religious organization
All donations are tax-deductible
---