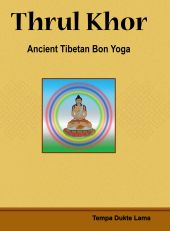 Thrul Khor – Ancient Tibetan Bon Yoga
Tempa Dukte LamaPaperback, 272 pp., $23.95
Order your copy of Thrul Khor from our online store here
.
Thrul Khor
is an ancient Tibetan practice that employs breathing, physical movement, visualization, and deep meditative awareness as a path of harmonizing the body, mind, and energy, and ultimately attaining awakening. In this first comprehensive English-language guide to Bon Thrul Khor, Tempa Dukte Lama offers step-by-step instructions for 85 practices according to the A Khrid, Ma Gyud (Mother Tantra), and Zhang Zhung Nyen Gyud cycles of Bon Thrul Khor, supported by 499 photographs. He also explains the benefits of the Thrul Khor practices for our spiritual path and for our physical health and wellbeing.
Thrul Khor works with our mind, body, and energy to support us in stabilizing our understanding. The pure energy of awareness appears in the five colors, the energetic expression of the Five Wisdoms: Wisdom of Emptiness, Mirror-like Wisdom, Wisdom of Equanimity, Wisdom of Discernment, and All-accomplishing Wisdom. The innate essence of the five elements manifests from these five colors. Within the body, the five elements are expressed as flesh, blood, metabolic heat, breath, and mind. When we purify these five aspects through Thrul Khor, we will experience the true essence of the elements, which is the innate luminosity or innate awareness. Ultimately, the rainbow body can be attained.
The book includes the Tsa Lung prayers in English and Tibetan as well as guidelines for an intensive 100-day Thrul Khor retreat.
Table of contents: