A Khrid Part I - III: Teaching and Transmission

via Zoom & In-Person with Tempa Dukte Lama
Week 1 | Sat. February 18th – Sun. February 19th
Week 2 | Sat. February 25th – Sun. February 26th
Week 3 | Sat. March 4th – Sun. March 5th
Week 4 | Sat. March 11th – Sun. March 12th
from 9:30 AM – 1:00 PM EST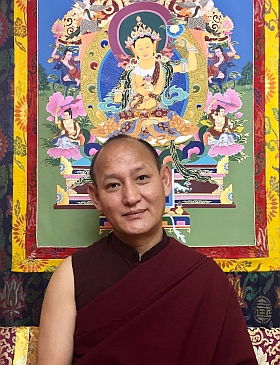 Simultaneous translation will be available in Spanish/Español (all days), Russian (all days), and French/Français translation for Feb. 25th – 26th and March 11th – 12th.

We are excited that Tempa Dukte Lama will be offering the complete cycle of A Khrid Dzogchen teachings and transmission. This teaching series is a special opportunity to directly recognize the mind's innate nature. The Bon Dzogchen teachings are the highest teachings of Bon as they offer a means to directly recognize the true nature of the mind and attain stabilization of this recognition.

Bon has three Dzogchen lineages: A Khrid, Zhang Zhung Nyen Gyud, and Dzogchen. The A Khrid lineage is known as the experiential Dzogchen transmission. It has been transmitted without interruption from master to student over many centuries, dating back from the late His Holiness 33rd Menri Trizin to the Great Master rMe'u dGongs-mdzod Ri Khrod Chenpo (1038-1096), and before him to Tonpa Shenrab, the founding teacher of Bon. Tempa Lama received these teachings directly from His Holiness 33rd Menri Trizin in an extended one-on-one teaching.

Please note – teaching prerequisites:

These teachings are meant to be attended in succession. The three parts consist of three separate Zoom events. Unless you have received the A Khrid teachings previously from Tempa Lama or another Bon lama, attendance of Part I is required to attend Part II, and attendance of Part II is required to attend Part

III

.

Part I

: Tempa Lama will give the history of the lineage transmission, Gyudrim. He will then focus on teaching the Ngozhi through his vivid fresh understanding and experience. Ngozhi is the actual practice of the A Khrid Dzogchen. It includes meditation with an object (the Tibetan letter A) and the pointing out of the nature of the mind. This teaching covers session 5 from the original A Khrid teaching.

Part II (prerequisite: attendance of part I)

: Tempa Lama will give instructions on spontaneous presence and continuity of meditative absorption without an object. This is also known as "meditation on essential nature" or ngang sgom. This teaching covers sessions 6 and 7 from the original A Khrid teaching.

Part

III

(prerequisite: attendance of part II):

Tempa Lama will first give teachings on how to distinguish between the ordinary mind and the true nature of the mind. Second he will offer an introduction to the nature of the mind. Third he will offer instructions on how we can stabilize this recognition through the practice of klong sgom, the spontaneous presence in the natural state. This teaching covers sessions 8, 9 and 10 from the original A Khrid teaching.

Part IV

covering sessions 11-14 from the original A Khrid teaching will be offered separately in March 2023. Read more

HERE ABOUT PART IV

These teachings are for all who would like to deepen their practice and recognize the true nature of the mind. Tempa Lama encourages all his students to attend.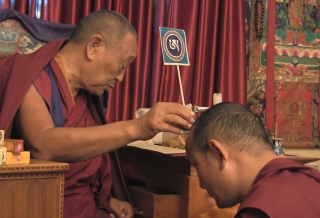 Participants will receive:
Recordings of Each Teaching
Four (4) Necessary Handouts:
– Nine Breaths of Purification
– Instructions for the body, speech, and mind
– Instructions for the practice of revealing the
undefiled mind
– Tibetan A for Visualization
---
Registration and Fees
We want the Bon teachings to be accessible to everyone independent of financial means. Therefore, we offer a lower fee option and full scholarship for anyone facing economic challenges.
If you are able to afford one of the higher fee options, we would greatly appreciate it.
We recently acquired the 3-story building that houses Olmo Ling temple. Your support over the next several months will help us cover the monthly mortgage until we have completed renovations of the upper two floors and are able to rent out this space. We plan to complete renovations by early summer.
If you are unable to afford a fee, do not hesitate to contact Joanna at bon@olmoling.org – please have A Khrid I-III Scholarship in the title.
Members Receive a 10% Discount
Mid to High income: $120
Mid income: $65
Low income: $25
Donate | Pay Custom Amount: Click Here
REGISTRATION IS OPEN

, IRIS

WILL SEND OUT THE ZOOM LINK AND HANDOUT FOR LATE REGISTRATIONS ON SATURDAY MORNING ABOUT 1H BEFORE THE TEACHING
---
Offering to Tempa Lama
If you would like to thank Tempa Lama for the teaching and transmission with an offering, you can donate online HERE or by mailing a check with a memo of "Tempa Lama" or "teacher support" to Olmo Ling, 1101 Greenfield Ave, Pittsburgh PA 15217. Thank you!
---
Donations to the Translators
Julián Moguillansky (Spanish / Español): HERE

Registration
We are really sorry, there are no places left for this event.
Please check the Olmo Ling Retreat and Teaching Schedule to see if there is another workshop or retreat that you might be interested in.
If you still want to participate in this event, please send us an email . Back to Olmo Ling Retreat and Teaching Schedule