A Khrid Part V: Phowa Teaching and Transmission

via Zoom & In-Person with Tempa Dukte Lama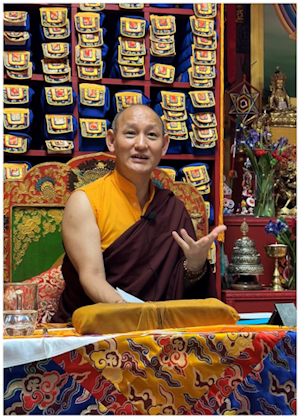 Saturday, September 16 – Sunday, September 17, 2023
This teaching builds on the A Khrid Parts I-IV teachings offered at Olmo Ling this spring and in previous years. Having previously attended Parts I-IV is a prerequisite for attending Part V.
Saturday's Teaching Hours:
9:30 AM – 12:30 PM EST
LUNCH BREAK
2:00 – 4:00 PM EST
Sunday's Teaching Hours:
9:30 AM – 1:00 PM EST
Registered participants will receive the recording after the teaching.
Simultaneous translation will be available in Spanish and Russian via Zoom. Please check back for updates!
Tempa Lama will offer the teaching and transmission of Phowa practice, comprising session XV of the A Khrid Bon Dzogchen transmission. Phowa is the practice of transference of consciousness when an individual approaches death or has passed. It is a path of liberation traditionally used by great masters to liberate the consciousness of self and others at the moment of death.
At the moment of death, our body and consciousness separate. Through Phowa practice we help the consciousness of the deceased or dying person liberate. Phowa is also used to clear the causes of the six realms of existence, the karmic traces that bind us to the cyclic continuum of suffering, and to unify our mind with the primordial purity. Tempa Lama will give the teaching and instruction on how to practice Phowa and how to use it to clear karmic conditioning. He will then offer the transmission of this practice.
---
Registration Fees
We invite you to kindly select an appropriate fee according to your means after clicking on the registration button. Registration fees and donations will help us continue to maintain Olmo Ling during this time of extended closure while making teachings available to everyone regardless of people's financial means. Thank you for your continued support!
If you are unable to afford a fee or donation, do not hesitate to contact Joanna at bon@olmoling.org – please have Akrid V Scholarship in the title. This is a difficult time for many of us. No one will be turned away from attending teachings at Olmo Ling due to lack of funds.
Members Receive a 10% Discount
Mid to high income: $80
Mid income: $50
Low income: $20
---
Offering to the Teacher
If you would like to thank Tempa Dukte Lama for the teaching and transmission with an offering, you can donate online HERE or by mailing a check with a memo of "Tempa Lama" or "teacher support" to Olmo Ling, 1101 Greenfield Ave, Pittsburgh PA 15217. Thank you!
---
Registration
We are really sorry, there are no places left for this event.
Please check the Olmo Ling Retreat and Teaching Schedule to see if there is another workshop or retreat that you might be interested in.
If you still want to participate in this event, please send us an email . Back to Olmo Ling Retreat and Teaching Schedule