Bardo Teaching

via Zoom & In-Person with Tempa Dukte Lama
Day 1 | Sun. April 30th
Day 2 & 3 | Sat. May 6th – Sun. May 7th

from 9:30 AM – 1:00 PM EST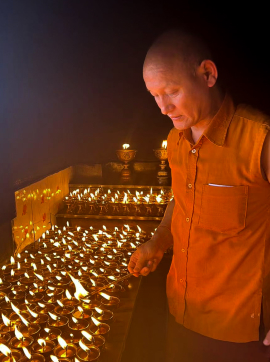 Simultaneous translation will be available in Spanish/Español, French/Français, and Russian.
For thousands of years, Tibetan spiritual traditions have cultivated practices to offer spiritual support to the dying and to prepare for a peaceful and conscious death. The Bon teachings on death and dying are central to the Path of Liberation as they enable us to attain liberation at the time of death or choose a beneficial rebirth. The Bon teachings on death and dying also encompass ways to offer spiritual and compassionate support to the dying, to family and loved ones, and to those who are ill.
In this series of three Saturday teachings, Tempa Lama will teach about the stages of the Bardo, and the mental, emotional and physical shifts that take place during the different Bardo stages. 'Bardo' is a Tibetan word consisting of "Bar" – the "between state" where the consciousness has left this body and not yet taken another body; and "Do"– the consciousness that is without the physical support of a body. Tempa Lama will provide practice instructions for each Bardo stage and explain how we can guide and assist the dying person during and after death. Based on the Tibetan Book of the Dead, we will use death itself as a basic practice to develop strength within ourselves and keep our hearts and mind free from fear and judgment.
Participants will learn about:
The stages of the Bardo
The mental, emotional and physical shifts during the Bardo stages
Practices to attain liberation or support a good rebirth for the different Bardo stages
How we can guide and assist others as they enter and traverse the Bardo
Participants will receive:
Recordings of Each Teaching
An Audio Recording of Bardo Monlam Chant
Two (2) Necessary Handouts:
– Bardo Monlam Liturgy
– Bardo of Life
---
Registration and Fees
We want the Bon teachings to be accessible to everyone independent of financial means. Therefore, we offer a lower fee option and full scholarship for anyone facing economic challenges.
If you are able to afford one of the higher fee options, we would greatly appreciate it.
We recently acquired the 3-story building that houses Olmo Ling temple. Your support over the next several months will help us cover the monthly mortgage until we have completed renovations of the upper two floors and are able to rent out this space. We plan to complete renovations by early summer.
If you are unable to afford a fee, do not hesitate to contact Joanna at bon@olmoling.org – please have Bardo Scholarship in the title.
Members Receive a 10% Discount
Mid to High income: $65
Mid income: $40
Low income: $15
REGISTRATION WILL CLOSE ON FRIDAY

, APRIL 28th at 6:00

PM EST
---
Offering to Tempa Lama
If you would like to thank Tempa Lama for the teaching and transmission with an offering, you can donate online HERE or by mailing a check with a memo of "Tempa Lama" or "teacher support" to Olmo Ling, 1101 Greenfield Ave, Pittsburgh PA 15217. Thank you!
---
Donations to the Translators
Julián Moguillansky (Spanish / Español): HERE

Registration
We are really sorry, there are no places left for this event.
Please check the Olmo Ling Retreat and Teaching Schedule to see if there is another workshop or retreat that you might be interested in.
If you still want to participate in this event, please send us an email . Back to Olmo Ling Retreat and Teaching Schedule