Bon Ngondro Retreat: Teaching and Transmission

Tempa Dukte Lama via Zoom
Week 1 | Sat. February 5 – Sun. February 6
Week 2 | Sat. February 12 – Sun. February 13

from 9:30am – 12:30pm ET via Zoom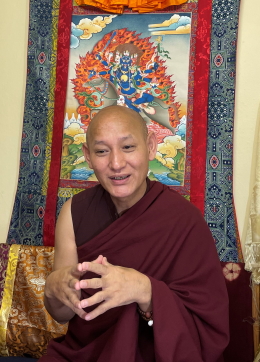 Simultaneous translation in Spanish, French, Polish, and Russian will be available.
Tempa Lama would like to begin this near year 2022 with a detailed
teaching and transmission of the Ngondro preliminary practices. This practice opens the door to all Bon practices of Tantra (Path of Transformation) and Dzogchen (Path of Self-Liberation). It is extremely important for all those who wish to learn and practice the spiritual path of liberation in the Bon tradition.
Bon Ngondro is the practice that opens our mind and heart toward realization on the Path of Transformation and the Path of Self-Realization. Ngondro is of tremendous benefit to our life. It helps us build a deeper connection with our spiritual teachers and cultivate the mind and heart of awakening, the motivation to benefit all beings. Ngondro is a powerful practice for purifying karmic tendencies and negativities. By cleansing our body, speech, and mind Ngondro prepares us to recognize our true nature.
Tempa Lama will explain and give the transmission for both the external and internal Ngondro practices.
Participants will receive the specific handouts for each weekend. Participants will be emailed the zoom link and handouts a day before each teaching on Fridays
---
Registration and Fees
We invite you to kindly select an appropriate fee according to your means after clicking on the registration button below. Registration fees and donations will help us continue to maintain Olmo Ling during this time of extended closure while making teachings available to everyone regardless of people's financial means. Thank you for your continued support!
If you are unable to afford a fee, do not hesitate to contact Joanna at bon@olmoling.org – please have Bon Ngondro Scholarship in the title. This is a difficult time for many of us. No one will be turned away from attending teachings at Olmo Ling due to a lack of funds.
Mid to High income: $80
Mid income: $45
Low income: $20
Or Donate by Clicking Here
REGISTRATION WILL CLOSE ON FRIDAY

, FEBRUARY 4th at 6:00PM ET
Attention PayPal Users: PayPal has changed their system and is no longer sending out automatic registration confirmations. You are still very welcome to pay by PayPal, but the system won't send you an automatic email confirmation. Instead, you will receive a manual confirmation from bon@olmoling.org as soon as possible. We are having our Paypal interface reprogrammed, so the automatic confirmation should be up and running again later this month. We apologize for any inconvenience!
---
Offering to Tempa Lama
If you would like to thank Tempa Lama for the teaching and transmission with an offering, you can donate online here or by mailing a check with a memo of "Tempa Lama" or "teacher support" to Olmo Ling, 1101 Greenfield Ave, Pittsburgh PA 15217. Thank you!
Registration
We are really sorry, there are no places left for this event.
Please check the Olmo Ling Retreat and Teaching Schedule to see if there is another workshop or retreat that you might be interested in.
If you still want to participate in this event, please send us an email . Back to Olmo Ling Retreat and Teaching Schedule