Dü Dok: Averting Misfortune and Obstacles

with Tempa Lama via Zoom
Saturday, October 2nd and Sunday, October 3rd, 9:30am – 12:30pm ET via Zoom

Simultaneous translation in Spanish, French, Polish, and Russian will be available. Please check back soon for more updates.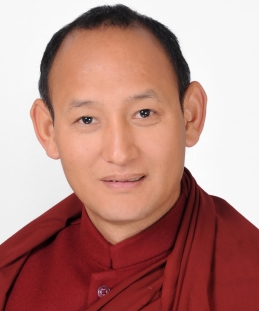 Tempa Lama will offer the teaching and transmission of the profound and powerful Dü Dok ritual prayer for averting misfortune and obstacles. Tempa Lama suggests that all his students learn this practice because it is very powerful and helpful for ourselves and others. Tempa Lama has been doing this practice all his life as a daily practice.
Dü Dok is a short and powerful ritual prayer that we can do to help ourselves, our friends and family, and all beings. Through this practice, we clear the causes of periodic misfortune and obstacles to the five divine energies of the individual: the Tsog (life force), Lu (health), Wangtang (livelihood), Lungta (social wellbeing), and Lha (soul). Through this ritual, we can avert negative planetary forces and clear the 80,000 different provocations of energy, the 404 kinds of illness, the 80,000 forces of misfortune, the 360 spirits causing danger and accidents, the 81 bad omens, and evil spells and curses. The ritual helps us heal trauma and recurring nightmares.
Participants will be emailed the zoom link and a handout with the prayer text the day before the teaching on Friday, October 1st.
Registration and Fees
We invite you to kindly select an appropriate fee according to your means after clicking on the registration button below. Registration fees and donations will help us continue to maintain Olmo Ling during this time of extended closure while making teachings available to everyone regardless of people's financial means. Thank you for your continued support!
If you are unable to afford a fee, please do not hesitate to contact Joanna at bon@olmoling.org. This is a difficult time for many of us. No one will be turned away from attending teachings at Olmo Ling due to a lack of funds.
Mid to High income: $45
Mid income: $20
Low income: $6
Or Donate by Clicking Here
Offering to Tempa Lama
If you would like to thank Tempa Lama for the teaching and transmission with an offering, you can donate online here or by mailing a check with a memo of "Tempa Lama" or "teacher support" to Olmo Ling, 1101 Greenfield Ave, Pittsburgh PA 15217. Thank you!
Registration
We are really sorry, there are no places left for this event.
Please check the Olmo Ling Retreat and Teaching Schedule to see if there is another workshop or retreat that you might be interested in.
If you still want to participate in this event, please send us an email . Back to Olmo Ling Retreat and Teaching Schedule