Dü Dok | Menri Monastery Public Restroom Project

with Tempa Lama via Zoom
Saturday, December 18th, 9:30am – 1:00 pm ET via Zoom
REGISTRATION IS CLOSED. PLEASE EMAIL US IF YOU STILL WANT TO REGISTER.
---
Tempa Dukte Lama is offering this special Dü Dok online teaching and transmission specifically to raise funds for the construction of a much-needed public restroom at his home monastery, Menri Monastery in India. This event is part of our Menri Public Restroom Fundraising Campaign. It is more important than ever for people to have access to a clean restroom and running water to wash their hands at Menri Monastery, the Mother Monastery of the Bon Tradition. Please register for this teaching event to help us reach our goal!
Funds Raised So Far Through Dü Dok Registrations
$3,058.00!
---

Simultaneous translation will be available in Spanish & Russian!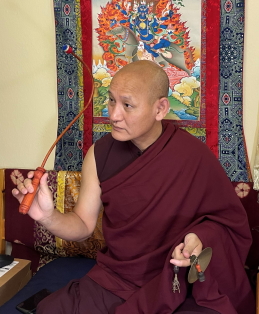 Yungdrung Bon Monastic Center at Menri Monastery in Dolanji, India has reached out to Tempa Dukte Lama and the Olmo Ling board to ask for help in raising funds for installing restrooms for their general public. Menri Monastery is the Mother Monastery of the Bon tradition. Tempa Lama lived and studied at Menri from the age of six. Menri hosts hundreds of visitors year-round and does not have a public restroom facility.
The central government of India is now requiring any community or monastic center where people gather to have a functioning public restroom. The construction of a public restroom at Menri Monastery will not only support cleanliness and public health but also protect the well-being and health of the monastic community.
To help fundraise towards this essential cause, Tempa Lama will offer the teaching and transmission of the profound and powerful Dü Dok ritual prayer for averting misfortune and obstacles.
Dü Dok is a short and powerful ritual prayer that we can do to help ourselves, our friends and family, and all beings. Through this practice, we clear the causes of periodic misfortune and obstacles to the five divine energies of the individual: the Tsog (life force), Lu (health), Wangtang (livelihood), Lungta (social wellbeing), and Lha (soul). Through this ritual, we can avert negative planetary forces and clear the 80,000 different provocations of energy, the 404 kinds of illness, the 80,000 forces of misfortune, the 360 spirits causing danger and accidents, the 81 bad omens, and evil spells and curses. The ritual helps us heal trauma and recurring nightmares. Tempa Lama will explain this ritual and how we can do it to clear obstacles in our own lives and the lives of others.
Participants will be emailed the zoom link and a handout with the prayer text the day before the teaching on Friday, December 17th.
Registration and Fees
We invite you to kindly select an appropriate fee according to your means after clicking on the registration button below. Registration fees and donations will help Menri Monastery and its community greatly. Not only will you receive the Dü Dok teachings from Tempa Lama, but you will also help protect the well-being of the monastic community.
Mid to High income: $60
Mid income: $40
Low income: $15
Or Donate by Clicking Here – If you choose the donation option, please add a note or email us to clarify that you would also like to participate in the Dü Dok event.
Attention PayPal Users:
We are currently experiencing issues with Paypal. When you complete your registration, you will not receive an email confirmation automatically. You will receive a manual confirmation from bon@olmoling.org as soon as possible. We apologize for any inconvenience!

Registration
We are really sorry, there are no places left for this event.
Please check the Olmo Ling Retreat and Teaching Schedule to see if there is another workshop or retreat that you might be interested in.
If you still want to participate in this event, please send us an email . Back to Olmo Ling Retreat and Teaching Schedule