Fundraising Dinner and Silent Auction for the Olmo Ling Capital Campaign

with Tempa Dukte Lama in Pittsburgh, PA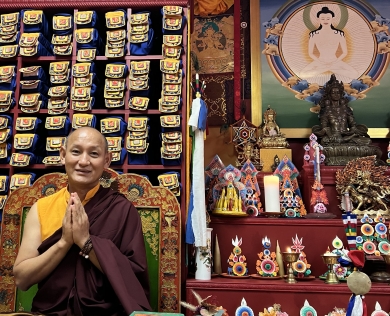 Saturday, July 2nd at 6:30 PM EST
Regarding COVID, as of 6/29 we anticipate being a smaller group of 21-25 people in a relatively large space
CHRISTINE FRECHARD GALLERY
5126 Butler Street
Pittsburgh, PA 15201
Live Music: The Moonlighting Duo – Mimi Jong (erhu) and Keith Cochran (accordion)
Silent Artwork Auction with art by Tempa Dukte Lama, Susan Wagner, Jamie Boyle, and Linda Wellner
Dinner Buffet by Uttam Tamang's Nepali Asian Restaurant. Vegetarian and chicken options will be available. When you register, you can indicate your dinner preference, which will help us ensure that we have appropriate amounts for each dish.
Tickets: $50.00
Registration closes Wednesday June 29, 10pm ET
Options: Vegetarian, Chicken, and Mixed
Children through age 12 attend free
Join us and help preserve Olmo Ling as a sacred space of spiritual refuge under the guidance of Tempa Dukte Lama! All proceeds of this event will go towards the Olmo Ling Capital Campaign.
The building where we have been renting our beloved Olmo Ling temple space in Pittsburgh (1101 Greenfield Ave) for the past 13 years has been put up for sale. The capital campaign is dedicated to raising funds for a down payment and necessary building renovation.
Tempa Lama's vision for many years has been to provide a sacred space of refuge where the community can come together to strengthen their spiritual practice and where everyone can have access to well-learned Tibetan Bon masters and Western teachers. Olmo Ling also provides translations of ancient Tibetan Bon texts into Western languages. Most of all, Tempa Lama is dedicated to supporting Western students who want to train and become responsible Bon teachers and lamas so that the ancient wisdom of Bon can truly grow deep roots in the West. Through our in-person and online teachings, we reach a truly global audience and a growing worldwide community.
The capital campaign is the most consequential initiative that Olmo Ling has undertaken to date. The Olmo Ling temple space carries the profound energy of thirteen years of spiritual practice and teachings. Most of all, it carries the immeasurable blessings of His Holiness the late 33rd Menri Trizin who visited and taught here twice, and his successor the 34th Menri Trizin who visited in 2019.
Help us establish a permanent sacred refuge for the wisdom and compassion of the Bon tradition where we can continue to manifest Tempa Lama's work!
---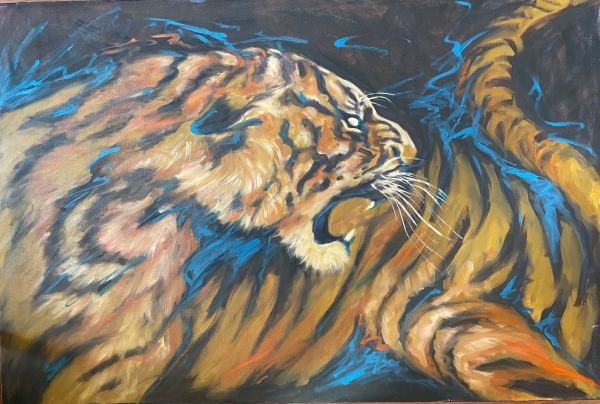 "Year of the Tiger", by Susan Wagner.
Registration
We are really sorry, there are no places left for this event.
Please check the Olmo Ling Retreat and Teaching Schedule to see if there is another workshop or retreat that you might be interested in.
If you still want to participate in this event, please send us an email . Back to Olmo Ling Retreat and Teaching Schedule