Ritual for Summoning and Securing the Elements of Prosperity - Ser Öd Yang Kyab

With Tempa Dukte Lama and Geshe Chembel Gurung
Saturday, October 15 from 9:30am – 12:30pm EST
Sunday, October 16 from 9:30am – 1:00pm EST
via Zoom & In-Person at Olmo Ling, 1101 Greenfield Ave, Pittsburgh PA 15217
Simultaneous translation will be available in French, Polish, and Spanish.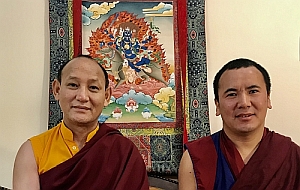 During the time of the Awakened One Tonpa Shenrab, the great Master Hazha Sangwa Dodü requested Tonpa Shenrab to offer a prosperity ritual for the benefit of all sentient beings. In response to his request, Tonpa Shenrab transmitted the Ritual for Summoning and Securing the Elements of Prosperity – Ser Öd Yang Kyab. We all have this precious human life and the precious opportunity to practice, however, many of us face adversities such as health issues, natural disasters, economic struggles, and obstacles to our lifeforce. These adversities hinder the accomplishment of our dreams and interrupt our attempts to live peacefully.
The benefit of this ritual practice is to nurture and secure the elements and forces of prosperity. This will support our longevity and physical health and strengthen our prosperity of wealth and enjoyment.
In this weekend workshop, Tempa Lama and Geshe Chembel Gurung will explain the essence of the Ritual for Summoning and Securing the Elements of Prosperity and its benefits. They will also perform the complete ritual for the benefit of the community.
Participants will be emailed the Zoom link a day before the teaching on Friday, October 14.
---

Tempa Dukte Lama is an ordained lama of the Tibetan Bon tradition. He is the founder and spiritual director of Olmo Ling Bon Center and Institute in Pittsburgh, PA, and co-founder of Humla Fund. He is an artist and poet and has authored six books. He is deeply dedicated to making the Bon teachings available in the West. Tempa Lama studied at Menri Monastery, India, under the close guidance of the late H.H. 33rd Menri Trizin, the worldwide spiritual head of the Bon tradition until 2017. Tempa Lama has lived in the US since 2000 and teaches internationally, helping people bring a practice of healing and happiness into their lives.


Geshe Chhembel Gurung Chhembel Gurung holds a Geshe degree from Triten Norbutse Monastery in Kathmandu, Nepal. After completing his Geshe degree he was appointed as Tsa Dzen Lopon (special teacher) of the Bon Dialectic School at Triten Norbutse. He also served as president and as treasurer of the Dialectic School for one year. Geshe Chhembel resides at Triten Norbutse Monastery and teaches regularly in the US.



---
Registration and Ritual Sponsorship
When you click the registration button, you will be able to select either in-person attendance at Olmo Ling or attendance via Zoom.

Your registration or donation will help us make an offering to Geshe Chembel who traveled to Olmo Ling from Nepal and will be with us for an entire month.
Your generosity will also help us maintain Olmo Ling Bon Center in Pittsburgh, PA, so that we can continue to offer the Bon wisdom teachings. Thank you for your generosity and support!
If you are unable to afford a fee, do not hesitate to contact Joanna at bon@olmoling.org – please have Prosperity Ritual Scholarship in the title. This is a difficult time for many of us. No one will be turned away from attending teachings at Olmo Ling due to a lack of funds.
Participate Online via Zoom
Mid to High income via Zoom: $80
Mid income via Zoom: $55
Low income via Zoom: $15
Participate In-Person in Pittsburgh, PA
Mid to High income in-person: $108
Mid to low income in-person: $75
Low income in-person: $40
Custom Amount | Donate by clicking here
Sponsoring the prayers for this ritual
We offer the opportunity for anyone to sponsor the ritual prayers for the healing, prosperity, and wellbeing of their family and friends. Sponsoring the ritual prayers is a powerful way to support the ritual and partake in its great merit and benefit. For many thousands of years, laypeople have supported lamas and monks to help them offer special prayers that in turn benefit many beings. You can donate securely online here or by sending a check marked "Prosperity Ritual" to Olmo Ling, 1101 Greenfield Ave, Pittsburgh, PA 15217.
Thank you for your generosity! This time we are hosting a visiting teacher to whom we want to make an offering, and we are most grateful for everyone's contributions!
---
Donations to the Translators
Milena Roslon (Polish): paypal.me/milenaroslon
Registration
We are really sorry, there are no places left for this event.
Please check the Olmo Ling Retreat and Teaching Schedule to see if there is another workshop or retreat that you might be interested in.
If you still want to participate in this event, please send us an email . Back to Olmo Ling Retreat and Teaching Schedule