Sidpa Gyalmo Healing Retreat

With Tempa Dukte Lama and Yoga instructor Alma Largey
Fri. May 10, 7-8:30pm, Sat. May 11, 9am-5pm and Sun. May 12, 9am-1pm
Olmo Ling Bon Center & Institute, 1101 Greenfield Ave, Pittsburgh,
PA 15217
Join us to experience the healing power and blessings of the ancient Tibetan healing meditation of Sidpa Gyalmo supported by gentle and restorative healing yoga postures. Sidpa Gyalmo is the chief protector of the Bon tradition. She is the healing manifestation of the Great Loving Mother. Sidpa Gyalmo embodies skillful means and transformation through the unification of awakened wisdom and compassion.
Tempa Lama will offer the transmission of the Sidpa Gyalmo healing meditation practice to connect us with the blessing of this practice. He will then offer instructions on how we can use it to heal our body and mind and help others heal. The blessing of this healing practice helps us reconnect with our innate capacity of healing. In the Bon teachings, healing encompasses the physical, emotional and mental dimensions of our being. The healing practice of Sidpa Gyalmo helps us clear both physical illness and heal our mind and feelings.
Complementing the practice of Sidpa Gyalmo, yoga instructor Alma Largey will offer healing yoga practice sessions that will help us open to the healing energy of Sidpa Gyalmo. Participants will experience a sequence of gentle and restorative yoga postures combined with pranayama (breathing techniques) to support the healing of mind, body, and soul.No prior experience with yoga is needed. Alma is a gentle and very adaptable instructor who enjoys working with students of all levels.
Retreat instructors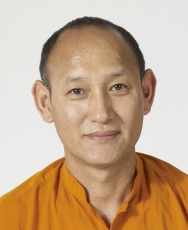 Tempa Dukte Lama
is an ordained lama of the Tibetan Bon tradition. He is the founder and spiritual director of Olmo Ling Bon Center and Institute in Pittsburgh, PA, a Bon Center affiliated with Menri Monastery in India. He is co-founder of Humla Fund, a non profit dedicated to strengthening the Bon culture through access to quality education, healthcare, and sustainable economic development in Nepal's Humla Region. Tempa Lama is an artist and poet and author of Heart Drop of the Loving Mother, Journey into Buddhahood, The Intimate Mind, and Inexhaustible Miracles. He is deeply dedicated to making the Bon teachings available in the West through teachings, books, and the vibrant Bon community at Olmo Ling.
From a young age, Tempa Lama studied at Menri Monastery, India, under the close guidance of the late H.H. 33rd Menri Trizin, the worldwide spiritual head of the Bon tradition until 2017. Tempa Lama has lived in the US since 2000 and teaches internationally, helping people bring a practice of healing and happiness into their lives.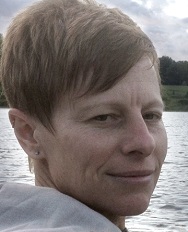 Alma Largey
has been teaching yoga for the past eighteen years, with a style that combines compassion and grace with spirit and breath. She teaches a vigorous, playful, and spirited flow-style Vinyasa classes, which emphasizes breath awareness, mindfulness, and alignment. Alma encourages her students to observe their breath and practice on and off the mat to uncover their innate truth, gentleness, and beauty. Classes are mixed level, and challenge students to develop their physical practice while widening their mental and spiritual path.
Alma has been certified by OM Yoga Center in New York City (200-hour) as a Vinyasa teacher and by the Himalayan Institute (500-hour) with a Hatha Yoga Certification. She is a certified Prenatal Yoga teacher by Janice Clairfield. Alma's additional yoga studies have been with Rodney Yee (Advanced Teacher Training) and François Raoult. She has completed an in-depth program of meditation practice at The Shambhala Meditation Center and has been a student of the ancient Bon teachings under Genyen Tempa Dukte Lama since 2009. She has been frequently, interviewed and featured in a series of articles for the American Baby Magazine and consulted by Robin Aronson for the Whole Pregnancy Handbook. In 2008, she published "Children on the Spectrum: A Journey" a book and DVD on Yoga and Autism.
In 2006 ALMA YOGA was established in Hancock, New York; In Spring 2019, ALMA YOGA will open a second studio in Jacksonville, FL. More information here.
Retreat registration
Requested fee for the weekend teaching including the Friday evening introduction: $122 (Olmo Ling members: $110). Requested donation if attending the introductory talk on Friday only: $10 (no registration needed for the talk). We offer a couple rate for couples of all genders. If you require financial assistance, please contact us to ask for a scholarship; no one is turned away from teachings at Olmo Ling due to lack of funds.
You can register online using the button below, or by sending a check marked "Healing retreat" to Olmo Ling at 1101 Greenfield Ave, Pittsburgh, PA 15217. For questions please contact the Olmo Ling office at 412-904-1112 or bon@olmoling.org.
Back to Olmo Ling Retreat and Teaching Schedule