Help support the future of Bon: Support the children and women's lineage at Menri Monastery, India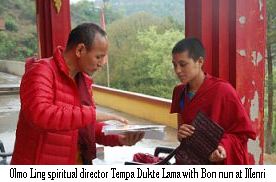 We are deeply honored to be hosting His Holiness the 34th Menri Trizin from August 5-12 as part of his first world tour. Please join us for this precious opportunity to spend time with His Holiness and build a connection with the worldwide spiritual leader of Tibet's ancient Bon tradition. His Holiness will be offering a public talk and blessing, a daylong teaching on the Loving Mother and the empowerment of Mawe Senge, and be with us for a benefit dinner.
His Holiness' visit is also an opportunity to support the future of Bon. H.H. has elected for the proceeds of his tour to support the 350 children receiving an education at Menri and the Menri nuns who embody the female lineage of Bon. Read more below about the children and nuns and ways to donate.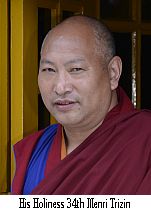 His Holiness Lungtok Dawa Dargyal Rinpoche, 34th Menri Trizin
After the passing of H.H. the 33rd Menri Trizin in September 2017, Geshe Dawa Dargyal was selected as the 34th spiritual leader of Bon and abbot of Menri Monastery in India on January 1, 2018, following an intensive prayer ritual.
His Holiness was born in 1972 in Amdo, Tibet. He received his Geshe (PhD) degree from Gamal Monastery in 1996, and his second Geshe degree from Menri Monastery in 2012. An accomplished practitioner of Bon, he has spent many years working closely with H. H. Menri Trizin 33rd in the oversight of Menri Monastery.
The previous abbot of Menri, the late 33rd Menri Trizin, has given great care to offering the same educational and spiritual opportunities to both nuns and monks. H.H. the 34th is keen to continue this work. The Redna Menling nunnery at Menri is currently the only Bon nunnery in India. Many of the nuns have gone through great hardship to be able to come to Menri and lead a monastic life of meditation, study, and service. Supporting these nuns is critical to enable them to continue their practice and studies so that they may inspire people across the world as radiant examples of female spiritual practitioners.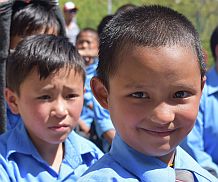 The children at Menri Monastery
Menri is offering education, shelter and health care to about 350 girls and boys at the Children's Welfare Center and the Bon Children's Home. Many of the children are from poor families in the Tibetan borderlands or are orphans or refugees who otherwise would not be able to receive an education. Receiving an education and loving support at Menri enables them to earn their livelihood and be part of building the future of the Tibetan community.
By working together as a Sangha family we can all receive great merit. We would like to give you the opportunity to feel close to H.H. 34th even if you cannot travel to Pittsburgh. We have asked His Holiness to bless Khatak (white silky Tibetan scarfs), protection cords, and photos of His Holiness.
Donors giving $25 or more will receive a protection cord after the visit (if you attend H.H. visit in person, you will receive the cord there)
Donors giving $50 or more will receive a protection cord and a photo of His Holiness
Donors giving $500 or more will receive a protection cord, a photo of His Holiness, and a Sandalwood wrist mala (prayer beads) blessed by His Holiness
Not only will you feel His Holiness' energy, within these items, you will also feel the protective qualities they contain – truly a blessing for a Bon practitioner.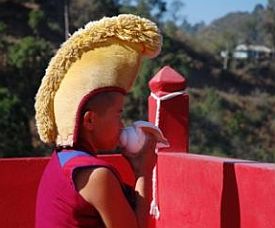 $4,000 – 1 year full support for 10 nuns or children
$2,000 – 1 year full support for 5 nuns or children
$1,000 – offering to one of His Holiness' attendants
$800 – 1 year full support for 2 nuns or children
$400 – 1 year full support for one nun or child
$100 – 3 months full support for one nun or child
$33 – 1 month full support for a nun or child
Or select any amount to donate
Donate by check
To donate by check, please make the check out to "Olmoling" and mail it to Olmo Ling, 1101 Greenfield Ave, Pittsburgh PA 15217 with a note "His Holiness".
Donate by Paypal
You can select the nuns and children, the offering to H.H. attendants, or travel and event expenses from the drop-down menu on the second page.
Donate by credit card
Thank you for your generosity!