Chang Bu Gyatsa Chod Prayer Ritual for Blessings in 2023

with Tempa Dukte Lama & Geshe Chembel Gurung
PLEASE NOTE TIME CHANGE IN THE US TODAY

and

CONSULT

TIMEZONE

-BUDDY IF

YOU ARE NOT SURE ABOUT THE START TIME

Sunday, November 6th, 2022

from 10:00am – 12:00pm EST

via Zoom & In-Person at Olmo Ling Bon Center

Simultaneous Translation in Spanish, French, and Russian will be available online.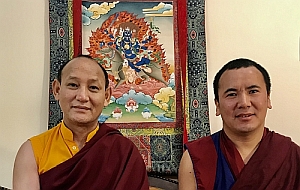 Tempa Dukte Lama and Geshe Chembel Gurung will perform this ritual assisted by senior students.
With this prayer ritual, we will invite blessings, healing, prosperity, and clear karmic obscurations for the coming new year. The Chang Bu Gyatsa prayer opens the possibility of a deep healing of our body, mind, and soul. It has the power to clear karmic obscurations that restrict our happiness, prosperity, health, and longevity, or that lead to misfortune and difficulties in our family relationships.
When we attend the Chang Bu Gyatsa Healing Prayer with an open mind and a strong motivation, the ritual will help us clear the underlying karmic causes so that we may experience happiness and healing. Moreover, the prayer supports us in reconnecting with our true nature of purity and joy.
Participants will receive a form to add names of loved ones to our Chod Prayer List when Zoom invitations are emailed on November 4th and 5th, 2022
---
About the Teachers

Tempa Dukte Lama is an ordained lama of the Tibetan Bon tradition. He is the founder and spiritual director of Olmo Ling Bon Center and Institute in Pittsburgh, PA, and co-founder of Humla Fund. He is an artist and poet and has authored six books. He is deeply dedicated to making the Bon teachings available in the West. Tempa Lama studied at Menri Monastery, India, under the close guidance of the late H.H. 33rd Menri Trizin, the worldwide spiritual head of the Bon tradition until 2017. Tempa Lama has lived in the US since 2000 and teaches internationally, helping people bring a practice of healing and happiness into their lives.


Geshe Chhembel Gurung Chhembel Gurung holds a Geshe degree from Triten Norbutse Monastery in Kathmandu, Nepal. After completing his Geshe degree he was appointed as Tsa Dzen Lopon (special teacher) of the Bon Dialectic School at Triten Norbutse. He also served as president and as treasurer of the Dialectic School for one year. Geshe Chhembel resides at Triten Norbutse Monastery and teaches regularly in the US.



---
Registration and Sponsorship
When you click the registration button, you will be able to select either in-person attendance at Olmo Ling or attendance via Zoom.
This ritual also serves as a year-end fundraiser event for Olmo Ling. 2022 has been a very special year for our community as we worked on purchasing the building that we have been renting for the past 13 years. A portion of our usual income has been diverted to this campaign – our most significant undertaking to date that will enable us to establish a permanent Bon temple space in Pittsburgh. Your generous contribution will help us finish 2022 in a strong position and it will also support Geshe Chembel Gurung and his work in Nepal. Thank you for your continued support!
If you are unable to afford a fee, do not hesitate to contact Joanna at bon@olmoling.org – please have Chod Prayer Ritual Scholarship in the title. This is a difficult time for many of us. No one will be turned away from attending teachings at Olmo Ling due to a lack of funds.
Participate Online via Zoom
Mid to High income via Zoom: $50
Mid income via Zoom: $25
Low income via Zoom: $10
Participate In-Person in Pittsburgh, PA
Mid to High income via Zoom: $50
Mid income via Zoom: $25
Low income via Zoom: $10
Custom Amount Online or In-Person | Donate by clicking here
REGISTRATION WILL CLOSE ON SATURDAY

, NOVEMBER 5th at 6:00PM

EST
---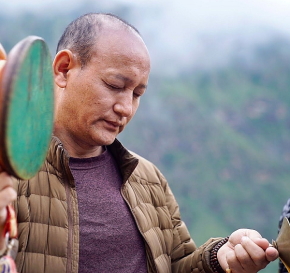 Sponsoring the Prayers for this Ritual
We offer the opportunity for anyone to sponsor the ritual prayers for the healing, prosperity, and well-being of their family and friends. Sponsoring the ritual prayers is a powerful way to support the ritual and partake in its great merit and benefit. For many thousands of years, laypeople have supported lamas and monks to help them offer special prayers that in turn benefit many beings.
Please Donate and Sponsor our Chang Bu Gyatsu Chod Prayer Ritual securely online HERE or by sending a check marked "Chod Prayer 2023" to Olmo Ling, 1101 Greenfield Ave, Pittsburgh, PA 15217.
Thank you for your generosity! This time we are hosting a visiting teacher to whom we want to make an offering, and we are most grateful for everyone's contributions!
---
Donations to the Translators
Julián Moguillansky (Spanish / Espanol): HERE

Registration
We are really sorry, there are no places left for this event.
Please check the Olmo Ling Retreat and Teaching Schedule to see if there is another workshop or retreat that you might be interested in.
If you still want to participate in this event, please send us an email . Back to Olmo Ling Retreat and Teaching Schedule