Visit from H.H. 34th Menri Trizin to Pittsburgh, PA in June 2023

Friday June 2nd - Sunday, June 4th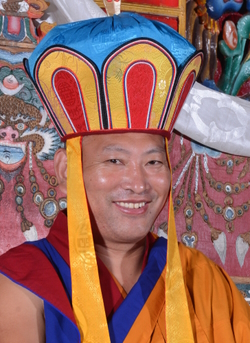 Friday, June 2nd – Sunday, June 4th
at Olmo Ling Bon Center and over Zoom
We are deeply honored to announce the second visit of His Holiness 34th Gyalwa Menri Trizin Lungtok Dawa Dhargyal Rinpoche the 34th abbot of Menri Monastery and spiritual head of the Bon tradition to Pittsburgh this June. Please join us for this precious opportunity to spend time with His Holiness. H.H. will offer a public talk on Friday, June 2nd, a teaching on The Important and Benefits of the Jang Chok Ritual on Saturday, June 3rd, and perform a Du Tri Su Empowerment on Sunday, June 4th.
YOU CAN REGISTER FOR EACH EVENT SEPARATELY OR BUNDLE ATTENDANCE USING THE REGISTRATION BUTTON ON THIS PAGE FOR THE PUBLICK TALK & JANG CHOK RITUAL (EMPOWERMENT IS SOLD OUT)
---
Support His Holiness' Visit and His Work at Menri Monastery
Since His Holiness was enthroned as the 34th Gyalwa Menri Trizin in 2018, he has been working steadfastly on strengthening the work of Menri Monastery and stabilizing its foundation of support through projects including a new building for Geshes and a much-needed public restroom. At the same time, His Holiness is growing deep connections with the worldwide Bon community and making his teachings and blessings available to practitioners in many countries. This year His Holiness is offering the world the precious gift of an extended teaching tour.
We would like to sincerely request your support in gathering funds for an offering to His Holiness for his work at Menri Monastery. Hosting His Holiness and the Geshes traveling with him is a major undertaking for us. We realize that this is a very busy year and many of you are also supporting the ongoing renovations of our recently purchased temple building. Menri Monastery is our spiritual root and the blessing of the Gyalwa Menri Trizin is the foundation of all our work. We are deeply grateful for any donation you feel moved to make to support our offering to His Holiness.
Donate Towards the Offering to His Holiness Here
---
His Holiness's 34th June Schedule
---
FRIDAY: JUNE 2nd | 7:00 – 8:30pm EST
In-Person at Olmo Ling Bon Center & over Zoom
with His Holiness 34th Gyalwa Menri Trizin Lungtok Dawa Dhargyal Rinpoche & Tempa Dukte Lama
The Four Noble Truths are the Foundation of the Bon path. They were the first teaching given by the Buddha after his awakening. The Four Noble Truths enable us to compassionately recognize and transform the suffering in our lives. The Bon view of practice is to acknowledge that suffering exists in our own lives and the lives of others. This is the First Noble Truth. The Second Noble Truth is the compassionate recognition of delusion as the cause of suffering. The Third Noble Truth reminds us that all beings can find liberation from suffering through clearing delusion from their mind. Noticing our suffering with gentleness and openness allows us to work toward its transformation. The Awakened One taught a path of transformation based on self-compassion, acceptance, and forgiveness. The Fourth Noble Truth clearly describes this path toward liberation from suffering. His Holiness will explain each of the Four Noble Truths and illuminate how we can reconnect with the innate peace and joy of our minds and hearts.
---
SATURDAY: JUNE 3rd | 10:00am – 4:00pm EST
In-Person at Olmo Ling Bon Center & over Zoom
with His Holiness 34th Gyalwa Menri Trizin Lungtok Dawa Dhargyal Rinpoche & Tempa Dukte Lama
The Jang Chok ritual for the deceased is an extensive ritual practice to guide the consciousness of the deceased and protect it from the terror of the Bardo experiences. The Bardo is the in-between state where the consciousness finds itself after separating from the physical body at the moment of death and before taking on a new body.
---
SUNDAY: JUNE 4th | 10:00am – 1:00pm EST
In-Person at Olmo Ling Bon Center (Zoom Option not available for the empowerment!)
with His Holiness 34th Gyalwa Menri Trizin Lungtok Dawa Dhargyal Rinpoche & Tempa Dukte Lama
Du Tri Su is the heart practice of Bon to clear the karmic conditioning and suffering of the lower realms and the obstacles in our present life. It is a powerful practice to call upon the souls of the deceased, offer them guidance, and help them find peace and well-being. The Du Tri Su mantra strengthens our vital energy, enables healing of our body and our relationships, and protects us from epidemics, disease, provocation of energy, hostile forces, and disturbing spirits.
EMPOWERMENT IS SOLD OUT

–

TICKETS ARE NO LONGER AVAILABLE FOR PURCHASE
---
Bundled Registration and Fees
We want Bon teachings to be accessible to everyone independent of financial means. Therefore, we are offering discounted bundled registration and scholarships for anyone facing economic challenges.
If you would like a discounted bundle or a scholarship, do not hesitate to contact Joanna at bon@olmoling.org – please have H.H. Bundle Discount or Scholarship in the title.
Members Receive a 10% Discount
In-Person Attendance Bundle of Public Talk & Teaching Only (Empowerment is full): $155.00
Online (Zoom) Attendance Bundle (PUBLIC

TALK AND TEACHING ONLY

): $110.00
REGISTER ON THIS PAGE TO ATTEND ALL THREE EVENTS
REGISTRATION CLOSES ON FRIDAY, JUNE 2nd AT 6:00PM EST
---
Teaching Venue, Accessibility, and Local Accommodations
The empowerment is held at Olmo Ling Bon Center and Institute. Founded by Tempa Dukte Lama, Olmo Ling is a Bon temple and practice center that is formally affiliated with Menri Monastery. Olmo Ling previously hosted visits of the late His Holiness 33rd Menri Trizin in 2011 and 2013. Tempa Dukte Lama studied closely with the late HH 33rd Menri Trizin from a young age. He is the author of four books and teaches in the US, Mexico, Canada, and Europe.
Note that Olmo Ling is fully wheelchair accessible (the entrance and temple are on the same floor) with an accessible bathroom.
A list of nearby accommodations can be found HERE
Back to Olmo Ling Retreat and Teaching Schedule