A Public Talk with Holiness 34th Menri Trizin Lungtok Dawa Dhargye Rinpoche

with His Holiness 34th Menri Trizin Lungtok Dawa Dhargye Rinpoche & Tempa Dukte Lama
Friday: June 2nd, 2023
from 7:00 – 8:30 PM EST
at Olmo Ling Bon Center and over Zoom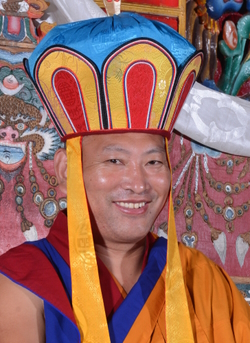 Simultaneous translation will be available in Spanish/Español and French/Francais online
His Holiness 34th Menri Trizin Lungtok Dawa Dhargye Rinpoche
His Holiness 34th Menri Trizin Lungtok Dawa Dhargye Rinpoche is the worldwide spiritual head of Bon and the 34th abbot of Menri Monastery, the mother monastery of Bon in India. His Holiness was selected as the 34th Menri Trizin on January 1, 2018, following a sacred prayer ritual over several days with lamas, monks, and nuns from across Asia.
His Holiness 34th Menri Trizin Rinpoche was born on November 29, 1972, in Amdo, Tibet. At age 17 he became a monk at Gamal Monastery in Amdo, and at age 18 he joined the Bon Dialectic School of Gamal Monastery. He received his Geshe (doctor of Philosophy) degree from Gamal Monastery at age 24. In 1994, he was able to take the 250 vows of a fully ordained monk from the 33rd Menri Trizin, who gave him the name Dawa Dargyal Wangpo. Thus the 34th Abbot was named Dawa (moon), followed by the 33rd Abbot, named Nyima (sun) – forming an auspicious connection like the moon proceeding in the path of the sun.
In 1997, His Holiness entered Menri Monastery in India, where he received his second geshe degree, in 2012. He served the 33rd Menri Trizin, His Holiness Lungtok Tenpai Nyima Rinpoche, for many years and held several important roles in the monastery, most recently as general secretary (administrator) of the Yungdrung Bon Monastic Center Society at Menri. In February 2018, Bonpos worldwide joined in celebrating the selection of the 34th Menri Trizin at Menri Monastery. On September 6, 2018, a formal grand enthronement ceremony took place at Menri.
In 2019, Olmo Ling had the great honor of hosting teachings with His Holiness. Read more about this very special visit here (post-event newsletter), here (Public Talk) and here (Teaching on the Loving Mother of Wisdom).
The extended bio of His Holiness is available on the website of the Yungdrung Bon Monastic Center HERE
---
Registration and Fees
Proceeds will support His Holiness' work at Menri Monastery
For those facing economic challenges, we offer discounted H.H. Public Talk registration and scholarships. If you would like a discounted registration or a scholarship, do not hesitate to contact Joanna at bon@olmoling.org – please have H.H. Public Talk Discount or Scholarship in the title.
Members Receive a 10% Discount
Regular cost (In-person & Zoom): $30.00
Member rate: $27.00
TICKETS WILL

ALSO

BE

AVAILABLE AT

-THE-DOOR
---
Support His Holiness' Visit and His Work at Menri Monastery
Since His Holiness was enthroned as the 34th Gyalwa Menri Trizin in 2018, he has been working steadfastly on strengthening the work of Menri Monastery and stabilizing its foundation of support through projects including a new building for Geshes and a much-needed public restroom.
Menri Monastery continues to support several hundred children, including Tibetan refuges and orphans who receive education, shelter, and a loving home at Menri. The nuns at the Redna Menling nunnery at Menri receive the same educational opportunities as the monks, including being able to study towards the Geshe (doctor of philosophy) degree. Many of the nuns have gone through great hardship to be able to come to Menri and lead a life of meditation, study, and service.
His Holiness is also growing deep connections with the worldwide Bon community and making his teachings and blessings available to practitioners in many countries. This year His Holiness is offering the world the precious gift of an extended teaching tour.
We would like to sincerely request your support in gathering funds for an offering to His Holiness for his work at Menri Monastery. Hosting His Holiness and the Geshes traveling with him is a major undertaking for us. We realize that this is a very busy year and many of you are also supporting the ongoing renovations of our recently purchased temple building. Menri Monastery is our spiritual root and the blessing of the Gyalwa Menri Trizin is the foundation of all our work. We are deeply grateful for any donation you feel moved to make to support our offering to His Holiness.
Donate Towards the Offering to His Holiness Here
---
Teaching Venue, Accessibility, and Local Accommodations
The empowerment is held at Olmo Ling Bon Center and Institute. Founded by Tempa Dukte Lama, Olmo Ling is a Bon temple and practice center that is formally affiliated with Menri Monastery. Olmo Ling previously hosted visits of the late His Holiness 33rd Menri Trizin in 2011 and 2013. Tempa Dukte Lama studied closely with the late HH 33rd Menri Trizin from a young age. He is the author of four books and teaches in the US, Mexico, Canada, and Europe.
Note that Olmo Ling is fully wheelchair accessible (the entrance and temple are on the same floor) with an accessible bathroom.
A list of nearby accommodations can be found HERE
---
CLICK HERE TO REGISTER FOR H.H. PUBLIC TALK
Register for A Public Talk with Holiness 34th Menri Trizin Lungtok Dawa Dhargye Rinpoche
Back to Olmo Ling Retreat and Teaching Schedule